April 2021 Hickory Farms Newsletter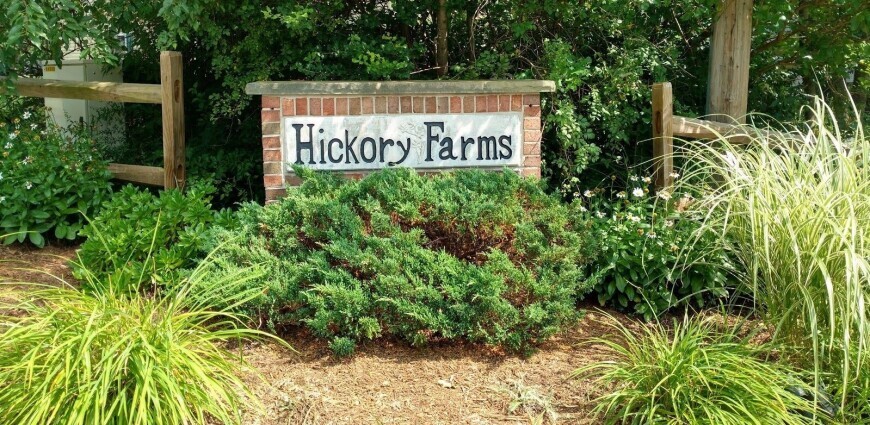 - Editor, Bill Berg (Farm House Ln)
President's Column
By: Sean Coleman
Last month as I wrote, we were in a sleet storm, and today it is in the 60s and heading to the 70s. Spring has sprung, and the early color that Spring brings lightens up the neighborhood.
We want to welcome Chad and Lyndsey Hovde and their two daughters as they move into the neighborhood.
Thank you to the volunteers that participated in the Spring clean-up on the North Path on March 20th. There will be other opportunities to volunteer for other Spring clean-up activities in the coming weeks.
As noted in the article on translating the newsletter, we are looking for a few volunteers who could help us make sure that Google translate does as good a job of translating our newsletter as they claim.
We want to remind people that there is an Architectural Control Committee (ACC) approval process before making improvements to the outside of your house or property. While a formal process, denials are rare. The ACC process can be found on the Hickory Farms website. This process includes obtaining any necessary County permits.
On April 20th, the Board will hold a formal planning process for the balance of the year and set priorities next year. If you have ideas for what the priorities should be, please reach out to a board member to discuss your ideas. That will help us in our deliberations.
During the February Board meeting, the Board decided to create a Community Forum segment for the monthly Board meeting. During this segment, any homeowner can address the Board on any topic for a short time at the beginning of the meeting. We hope that this will expand communication from the community to the Board.
It has also come to my attention that multiple dog solid waste bags have been found throughout the neighborhood, especially near the entrances to the common areas. Please be courteous to your neighbors and take your dog's solid waste home and place it in your trash can.
Fairfax County has joined several neighboring communities in the D.C. Metro Area to ban plastic bags for yard waste. The change took effect on Monday, March 1st, and requires county residents who have curbside collection of yard waste to use reusable containers or paper yard waste bags to set out grass, leaves, and/or brush for collection. Although the new rule took effect March 1st, the Solid Waste Management Program will be exercising enforcement discretion for six weeks to allow time for customer notification and education on the new rule. Enforcement will begin on Monday, April 19th, 2021, and plastic bags set out at residences may be left uncollected. Additionally, the County has a web page to assist people who want to compost their yard waste, see managing yard waste, and learn more about yard waste management; see yard waste webpage.
A recent change in state law requires the Association to have a written complaint process. We will finalize a short-term policy at our April board meeting and publish it to the community for comment. Then later this year, we will look at the comments and finalize this policy so we remain compliant with state law.
A neighbor recently stopped me on a walk through the neighborhood and told me that another dog attacked their dog. The two owners were able to separate the dogs eventually, but the smaller dog had some injuries—just a reminder to keep your dogs on a leash whenever they are in public, including the front yard.
We are hopeful that we can hold a physically present Annual Meeting at Green Acres during the week of October 11th. More on this as we firm up the timing. In furtherance of holding our Annual Meeting and other events, it is critical that as many people get vaccinated as possible. The Fairfax Health department has vaccinated over 290,000 people with either one or two doses of the vaccine. Here is the link to the Department of Health's vaccine registration page. Here is the latest priority update from the Fairfax County Health Department for access to the vaccine. Note the date is March 30, 2021.
In March, Supervisor Walkinshaw and County staff briefed the Braddock District Council on the proposed County Budget for 2021-22. You can find the briefing here: https://youtu.be/zcw6nMb6H-Y
2020 HFCA Fiscal Year Operating Budget Actuals
| Income | Budget | Actual |
| --- | --- | --- |
| Annual Assessment | $49,500.00 | $49,500.00 |
| Late Fees |   | $100.00 |
| Interest - Checking | $12.00 |   |
| Legal Fees/Leins |   |   |
| Advertising | $1,200.00 | $1,829.60 |
| VPOAA Disclosure Package Fees | $881.00 | $876.21 |
| Total Income | $51,593.00 | $52,305.81 |
| Expenses | Budget | Actual |
| Common Grounds Maintenance | $23,690.00 | $21,573.62 |
| Common Grounds Improvement | $6,090.00 | $1,435.36 |
| Common Grounds Remediation | $4,120.00 | $3,243.54 |
| Legal Fees | $2,060.00 | $1,431.85 |
| Printing | $1,545.00 | $1,417.76 |
| Social | $1,545.00 | $1,324.67 |
| Neighborhood Watch | $206.00 |   |
| Management Liability Insurance | $2,060.00 | $1,818.00 |
| Commercial Crime Insurance | $618.00 | $737.00 |
| General Liability Insurance | $309.00 | $250.00 |
| Tax Preparation/Audit | $335.00 | $325.00 |
| Taxes & Government Charges/Fees | $247.00 | $128.00 |
| Administrative Fees | $824.00 | $826.69 |
| Bank Charges | $52.00 |   |
| Postage | $258.00 | $430.15 |
| Strategic Projects | $2,000.00 | $257.08 |
| Capital Refresh | $2,200.00 | $2,507.38 |
| Total Expenses | $48,159.00 | $37,706.10 |
| Net Income or (Loss) | $3,434.00 | $14,599.71 |
Note: HFCA's Money Market account has now a balance of $ 42,145.51, which includes $307.38 transferred as surplus Net Income from HFCA's Checking account after the end of 2019 and $14, 439.38 transferred so far from above surplus Net Income from HFCA's Checking account after the end of 2020.
2021 HFCA Fiscal Year Operating Budget (Revised*)
Income
Annual Assessment - Current Year
$49,500.00
Annual Assessment - Pre-Paid
 
Late Fees
 
Legal Fees/Leins
 
Advertising
$1,550.00
VPOAA Disclosure Package Fees
$875.00
Total Income
$51,925.00
Expenses
Common Grounds Maintenance
$22,675.00
Common Grounds Improvement
$11,280.00
Common Grounds Remediation
$5,000.00
Legal Fees
$2,060.00
Printing
$1,500.00
Social
$1,250.00
Neighborhood Watch
$177.00
Management Liability Insurance
$2,500.00
Commercial Crime Insurance
$800.00
General Liability Insurance
$309.00
Tax Preperation/Audit
$335.00
Taxes & Government Charges/Fees
$247.00
Administration Fees
$824.00
Bank Charges
$52.00
Postage
$366.90
Strategic Projects
$1,000.00
Reserves for Capital Components
$280.00
Surplus from Prior Year - Carryover
 
Total Expenses
$50,655.90
*Note: The 2021 HFCA Budget was revised at the January 2021 Board Meeting due to force majeure delay into January 2021 (due to COVID-19 and bad weather) of already contracted Common Grounds Improvement originally planned for December 2020. Consequently, Common Grounds Improvement was increased by $7,220 and Reserves for Capital Components was decreased by the same amount.
Join Our Listserv
There's no better way to stay in touch than through our Hickory Farms email listserv. Click "Email Listserv" in the "For Residents" menu at the top of the page and follow the instructions.
Translation of the Hickory Farms Newsletter
We recognize that some of our community members may speak and read English as a second language and may be more comfortable in another language. We have been experimenting with Google Translate to see if it will do a good job translating our newsletters into other languages. We are looking for a few volunteers to help us make sure the translations make sense. If you would like to assist with this short project please reach out to Bill Berg, our newsletter editor and Board member to assist. As laid out below, the process of translating a document is straightforward.
The steps to do this are relatively simple and will work with both a Word document or a PDF. In your browser type in https://translate.google.com/. As you can see, there are 94 options into which you can translate a document.
First click the right down arrow to select the language you want the newsletter translated into, use the down arrow to bring up the list of languages you see above. Then click on the browse your computer but-ton to load your newsletter or other document into the space.
Upload your newsletter into the system, you will have to save it to the computer to do this step, and then hit the translate button in the lower righthand corner. Google will do the rest.
Google translate cannot download and translate images so the advertisements that are in the newsletter will not translate and will come out as empty space.
Student Yellow Pages
If you offer services such as raking leaves, lawn mowing, babysitting, general home maintenance, dog walking, tutoring, etc., please email Bill at berg_bill@yahoo.com to be included.
| | | |
| --- | --- | --- |
| Bridgette Buchanan (17) | 703-307-7323 | Babysitting and dog sitting |
| Britney Mulliner (17) | 571-474-7277 | Babysitting and dog sitting |
| Cody Dempster (17) | 703-776-0101 | Yard work, snow shoveling, housework |
| Dominic Cannata (17) | 703-568-9896 | Lawn mowing, shovel snow, cleaning, mulching |
| Kiera Stark (11) | commonareas@hickoryfarms.org | Pet sitting, plant/tree watering, weed picking and leaf |
| Kent Codding (18) | 703-317-7319 | Shovel snow, yard work, leaf raking |
| Paul Cannata (18) | 786-445-5318 | Lawn mowing, shovel snow, cleaning, mulching |
| Xavier Gilmer (15) | 703-862-2192 | Shovel snow; lawn mowing |
| Jaden Singh (17) | 703-278-8800 | Math tutoring, snow shoveling |
| George Codding (14) | 703-223-4101 | Snow shovel, yard work, leaf raking |
April HFCA Board Meeting
As a result of the COVID-19 pandemic, Hickory Farms Board Meetings are now conducted using the Zoom audio/video conference application. That means that every Hickory Farms Community Association member can observe their Board in action without leaving home! The next HFCA Board meeting will be held Tues-day, 13 April at 7pm. To join the meeting, contact any HFCA Board Member or send a request to join to hfca@hickoryfarms.org. You will also be provided with the Zoom meeting URL, meeting number and passcode.
Hickory Farms has a strong and consistent history of transparency regarding access by members to Board Meetings and the challenges facing our community. Please consider attending the Board Meeting so that you are fully informed with the issues facing our neighborhood!
Volunteer Needed for Newsletter Delivery
We are seeking a volunteer to deliver the newsletter on a monthly basis to the following area beginning in May 2021. If interested please email the newsletter editor at newsletter@hickoryfarms.org.
Save the Date! Common Areas Activities & Volunteer Events
The CAC team has lots of volunteer activities and events planned for spring and into summer! We welcome everyone to join & participate in these fun events. Sign Ups will be sent via the Listserv & Nextdoor!
Thinning the Upper Commons Meadow
Grab your shovel & gloves, we will be thinning out some of the natives that propagate in abundance to transplant in the Rabbit Run Meadow.
When: Saturday, April 10th from 0800-1100
Where: Upper Commons Main Island - Meadow
Hickory Farms Bird Hike with Bob and Judy Cosgriff
Come out and take part in a bird walk in our common areas with Bob and Judy Cosgriff during the peak weekend of spring migration. Learn the basics of bird identification, what is involved in monitoring the Hickory Farms bluebird trail, and get information on how to attract birds to your yard. Binoculars and a field guide are recommended, but not required. Curious kids welcome! Even though the walk is outdoors, we will wear masks and practice social distancing. The goal will be to see 20 species of birds.
When: Saturday, May 8th from 0900-1000
Where: Rabbit Run, by the Little Free Library at the intersection of Farm House Ln. & Cotton Farm Rd.
Native Perennials Gardens & Wildlife Benefits – How to Introduce Natives to Your Yard
When: Saturday, June 12th at 0900
Where: Upper Commons, Little Free Library off of Farm House Ln
Invasive Management – Cutting & Removing Vines & Tree Seedlings
Help clear out some of the vines & invasive tree seedlings that are within our commons. A learning experi-ence on invasive management & eradication.
When: TBD
Where: TBD
Be on the lookout for these pop-up events throughout March – October via the Listserv & Nextdoor. This is a join if you able type of event. Gloves will be required & a limited number of hand and tree pruners will be provided.
Volunteer Now to Be a Block Rep!
Block Reps further bring our community together by working with the Social Committee to get to know current residents, greet new neighbors and help plan and spread the word about fun events for Hickory Farms. If you're interested in being a Rep, please email Sarah Tropiano at sarahtropiano@gmail.com. We'll get together (virtually) soon to start preparing to bring our people together when warmer weather arrives.
Strategic Planning Session
There will be a HFCA Strategic Planning Session held Tuesday, 20 April at 7pm. To join the meeting, contact any HFCA Board Member or send a request to join to hfca@hickoryfarms.org. You will also be provided with the Zoom meeting URL, meeting number and passcode.
Birds of Hickory Farms
By Bob Cosgriff
A beautiful male Eastern Towhee on the last day of the month gave us 36 species for February, equaling the 2020 count for the first two months of the year. We added three more species in March: Black Vulture and both Red-tailed and Red-shouldered Hawks, bringing our year total to 39 as this newsletter goes to press. March is generally slow; it is the months of April and May that offer the largest numbers of new arrivals. In the March newsletter, you probably saw the schedule of upcoming events for the common areas. One of these is a bird walk led which Judy and I will lead on 8 May, at the height of the spring migration. The purpose of the event is to provide a basic introduction to bird identification. We will walk through the upper and lower common areas. You will also learn what goes into monitoring the bluebird trail and how to attract birds to your yard. If you have a pair of binoculars, bring them along. A field guide to birds is helpful, but not required (I'll have one to share as necessary). Curious kids are welcome. Birdwatching is something everyone can enjoy. Hope to see you then.
Birds are the most numerous and visible forms of wildlife that people see. To date, we have documented 124 species of birds in Hickory Farms. To see pictures and learn more about the birds I name each month, please go to https://www.allaboutbirds.org/. While my articles focus on birds, there are many other forms of wildlife living in Hickory Farms. Recently, we were surprised to see a woodchuck (sometimes called a "groundhog") saunter through our yard. We've lived here for a long time and this is the first woodchuck we've seen right in Hickory Farms. The sighting reminded us that it is possible to see wild creatures other than birds in our neighborhood. Here is a tabular list of various types of wildlife that we have observed over the years:
| | | |
| --- | --- | --- |
| Mammals | Reptiles/Amphibians | Insects/Invertebrates |
| Gray Squirrel | Black Rat Snake | Monarch Butterfly |
| Flying Squirrel | Smooth Green Snake | Spicebush Swallowtail |
| Red Fox | Eastern Garter Snake | Cabbage White |
| Gray Fox | Northern Water Snake | E. Tiger Swallowtail |
| Coyote | Copperhead | Common Buckeye |
| Raccoon | N. Ringneck Snake | Silver Spotted Skipper |
| Woodchuck | N. Brown Snake | Sachem |
| Eastern Chipmunk | Snapping Turtle | Painted Lady |
| Black Bear | Eastern Box Turtle | Red Admiral |
| Eastern Cottontail | Wood Turtle | Tent Caterpillar (moth larvae) |
| House Mouse | Red Eft | Gypsy Moth |
| Field Mouse | Muddy Puppy | Morning Cloak |
| Norway Rat | Fowler's Toad | Common Whitetail |
| White-tail Deer |   | Blue-faced Meadow Hawk |
|   |   | Nightcrawler |
| Marsupials |   | Stinkbugs |
| Virginia Opossum |   | Miner Bee |
|   |   | Hornets/Wasps |
|   |   | Cicadas |
No doubt there are many other insect varieties present. We have only recently begun to count butterflies, moths, and dragonflies systematically, that is, to identify and record them just as we do with birds. We know there are more than two kinds of dragonflies here besides Common Whitetail and Blue-faced Meadow Hawk, just as we know we have many small butterfly species, such as skippers, whites, sulphurs, and brushfoots. We just haven't positively identified them. Likewise, there are undoubtedly other reptile/amphibian species that we have not seen or identified yet. One note about the list: several species have been seen only once, such as Black Bear, Flying Squirrel, and Woodchuck. Other types of wildlife, such as Gray Fox, Opossum, Wood Turtle, Smooth Green Snake, Northern Water Snake, and Copperhead have not been seen in many years. Even the lovely early-spring chorus of peeper frogs has not been heard in the creek for a long time either.
The main reason that wildlife vanishes from places within its natural range is human disturbance, meaning habitat destruction and indiscriminate use of chemicals: insecticides that kill off insects relied on by numerous bird species or herbicides that can poison plant seeds, thus killing the birds that eat them. Overuse of lawn and garden fertilizers leads to runoff which changes the chemistry of water in streams and lakes. Reptiles, amphibians, and fish are especially vulnerable to pollution. This has happened right here in Rabbit Run, as indicated above.
While Hickory Farms fortunately still retains areas of "natural" habitat, it is primarily a disturbed environment. The long-term HOA effort to remove invasive vegetation and replant significant numbers of native trees, shrubs, and wildflowers should help to somewhat restore a more natural habitat. This will bring back some species that have lost a home to suburbanization. Our bluebird trail—now 20 years old—is one example of what can be done to restore a species that had been absent for many years. Every resident can help in this effort by using only organic fertilizers and non-toxic pest controls, and by planting native trees, plants, and flowers. This will create even more spaces in Hickory Farms where various forms of wildlife can find food and shelter.
Hopefully, we'll be able to add to this initial list in the coming months. So while you probably won't see a black bear, if you keep your eyes open you very might see some of the other non-human "neighbors" that live all around us. And of course, you will always be able to see and hear the many beautiful birds of Hickory Farms!
Assistance with COVID-19 Vaccine Scheduling
Need help figuring out how to schedule an appointment for the COVID-19 vaccine? Please reach out to Caroline Kennedy on Spinning Wheel Ct. for assistance. Caroline is a GMU public health graduate student who has scheduled numerous people in her family, has gone through the process herself, and is happy to help you (or your friends and family) find an appointment! You may call or text (preferred) Caroline at 703-431-6700 – please leave a message if she doesn't answer. Alternatively, you may email her at caroline.m.kennedy1@gmail.com. And, as a reminder, Virginia is opening up COVID-19 vaccine eligibility to everyone 16 and older by April 18.
Upcoming HFCA Property Inspections
By Pam Barrett
HFCA owners should walk around their property and try to view it through your neighbors' eyes. What stands out for you? When you try to see it as a stranger might see it, do you see mold on your siding, faded, chipping paint, ragged grassy edges along the side walk and drive way? We were unable to carry out inspections for Rules and Regulations compliance last year, but I have made several informal rounds on my own to look for the worst offenders. If you received one of my letters, you need to be aware of this inspection.
This year we will take a closer look at all homes in Hickory Farms. I still have the ACC sign-up sheet from the 2019 Annual Meeting and there are three names on it. If you signed up, I will be calling you to see if you can still volunteer to help with property inspections. As we had planned last year, we will try to start and finish in early June.
There are about 25-30 homes to view on each route – not necessarily in one walk – and we hopefully will not need more than 10 forms.
Volunteer Areas are as follows:
Area 1: Starting the Roberts Road entrance, both sides of Still Meadow Road up to 4329, but not any higher.
Area 2: Farm house Lane beginning at 4351 across from Spinning Wheel Court., both sides, all numbers ending at 4377, then all of Round Top Court.
Area 3: All of Wheatfield Court, all of Country Squire Lane.
Area 4: All of Spinning Wheel Court. and Farm House Lane from 4344, on north side only to 4344 Still Meadow Road., up the west side only of Still Meadow Road to 4330.
Area 5: All houses backing to Lower Common Area, Cotton Farm Road on the north and east, Farm House Lane on the south, Still Meadow Road on the west side. Also include 10020, 10022, 10024 on the north side of Cotton Farm Road, between Still Meadow Road and Country Squire Lane.
Area 6: The east side of Cotton Farm Road 10014 to 9998, and the south side of Farm House Lane from 4313 to 4349.
Area 7: 10005, 10003 Farm House Lane; All of Harvester Farm Lane and Tumble-weed Court.
If you are interested in volunteering in early June, contact Pam at acc@hickoryfarms.org