August 2019 Hickory Farms Newsletter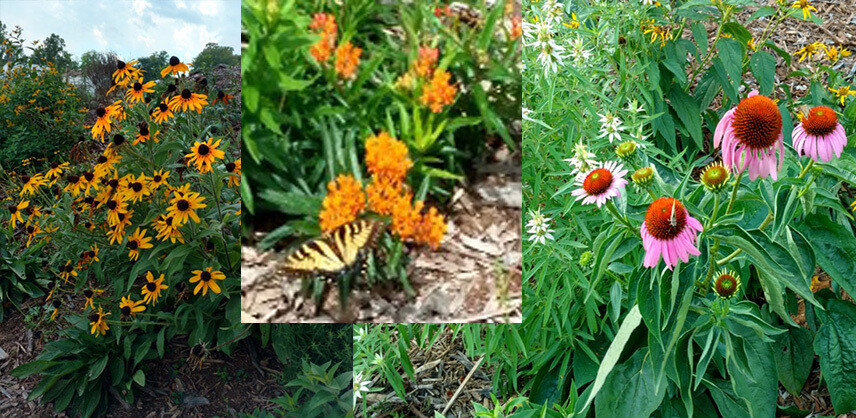 The Upper Common Blooms! - Editor, Chuck Stewart (Still Meadow Rd)
Hickory Farms Board Calendar
Sept. 9 - Board of Directors Meeting
Oct. 29 - Annual Meeting (Green Acres, Cafeteria)
Saturday Social Calendar 2019
Come Join Us in the Upper Commons!
Sept. 21 - Fall Fest, All Ages
Oct. 05 - HFCA Yard Sale
Oct. 19 - Monster Mash Party, All Ages
Dec. 15 - 18th, Holiday Decorating Contest, Voting & Awards, All Ages
Annual Nominating Committee
The annual nomination pro-cess for HFCA Board Members and Officers is now underway. HFCA-ACC Chairperson and Board member, Pam Barrett, is the 2020 Nominations Committee Chairperson. If you would like to serve with Pam please contact her at 703-978-2132 or pbarrett@ccweek.com.
If you would like to nominate yourself or a neighbor for a Board position, please contact Pam so that she can include the candidate's name on the nominations slate to be voted on at our Annual Meeting on October on 29th. Nominations will also be accepted from the floor at the Annual Meeting. To see who is currently on the Board of Directors, please click here. Note that some of these volunteers may not be running for reelection because of other pressing responsibilities.
Dozens of volunteers have stepped forward over the past 43 years to make Hickory Farms the wonderful place it is today to live, perhaps raise a family, and enjoy surrounding attractions. Please consider volunteering this year as a member of the Board of Directors in order to keep our record of continuous community service.
For and About George Mason University Students
At any given time, Hickory Farms may have 1-3 homes (out of 198) that are rented to GMU students. This is not surprising given that GMU is just blocks away from HF.
Be nice to your student neighbors! They have just as much right to live in our community as anyone else. And, please be tolerant, since this may be their first experience with off-campus independent living and managing trash service, lawn mowing and other responsibilities may be new to them.
The Hickory Farms Community Association does not have jurisdiction over zoning issues such as how many unrelated people may live in a single family home. See www.fairfaxcounty.gov/dpz/zoningordinanceZoning Enforcement complaints, such as for more than four unrelated persons living in the house or excessive noise, may be submitted at 703-324-1300 or online at www.fairfaxcounty.gov/fido/complaints/comp_submit.aspx.
Community Yard Sale Planned forSaturday, October 5th!
It's early yet . . . but not too early to start thinking about what you want to sell! Get together with your neighbors for a fun morning! (This is a good deal for you!)
After taking a break last year, we're holding a Community Yard Sale again this year. Pete Scala will run it, and we plan to hold it this fall. As always, we run it on a Saturday from 8 am to noon.
As in past years, HFCA does the advertising, posts signs, and distrib-utes maps showing yard sale locations (but not names). Because we usually have many families participating, we always get a much better customer turnout than single family or 2 or 3 family yard sales.
The way it works is; that Saturday morning you put out your items for sale in your front yard, and shoppers use the map we provide to go to participating houses.
In order to cover costs, a nominal charge is required for people participating. You can call or email Pete Scala [(703) 764-0730 or scalapr@verizon.net] to sign up.
Hickory Farms Residents
Please let the Social Committee know about any newly arrived homeowners or any new renters, so that the Social Committee can be sure to welcome all newcomers! Please email any newcomers' address to social@hickoryfarms.org.
Junk Cars!
Under Fairfax County Code, junk cars can be kept on your property only if they are completely screened or shielded from view. An "Inoperative Motor Vehicle" is any motor vehicle, trailer, or semitrailer which:
Is not capable of starting and moving under its own power; OR
Does not display valid license plates; OR
Does not display an inspection decal that is valid or displays an inspection decal that has been expired for more than sixty days.
To report an inoperative vehicle, call the Police Impound Section at 703-280-0716. Callers' names are not divulged. The Police can tow an inoperative vehicle if the owner does not get it in working order to remove it within ten days after receiving a violation notice.
Senior Resources
Fairfax County has many resources for seniors. Aging, disability and Caregiver Resource Line: (703) 324-7948. The one-stop webpage (https://www.fairfaxcounty.gov/familyservices/older-adults) for information about services, recreation and community engagement opportunities. The website has an extensive links to county resources. Fairfax County has 12 (over age 50) Senior Centers. There is an annual fee for Fairfax County residents is $48 per person or $100 for non-residents. The nearest senior center to Hickory Farms is Little River Glen Senior Center on 4001 Barker Court, Fairfax VA 22032. (https://littleriverglenseniorcenter.org/) They have many free and fee-based senior classes that include languages, exercise and crafts.
Also, mention the Fairfax City Green Acres ("Young at Heart") Center at 4401 Sideburn Rd, which offers a variety of services. https://www.fairfaxva.gov/government/parks-recreation/the-young-at-heart-senior-center. They also have a fitness center which is available to anyone over the age of 16 for $15/month and is free for seniors.
While on the topic of seniors, be sure to mention OLLI (Osher Lifelong Learning Institute) on Roberts Road next to the swimming pool, which provides a variety of instructional courses taught by local university faculty, retired ambassadors and government officials, and other smart folks. https://olli.gmu.edu/2019-fall-catalog/
Deed & Declaration Amendment Status – Final Countdown!
For the 122 Hickory Farms property owners who have responded to the request to approve or reject the proposed Deed & Declaration Amendments, thank you! The 122 responding owners represent 62% of our total property owners. To date, 102 (52%) have agreed with and signed the D&D Amendment Form and 20 (10%) have rejected the changes. That is a 5 to 1 response rate in favor of the Amendments! That also leaves 76 property owners (38%) undecided whom we have not heard from.
In order for the changes to become effective, 150 or more property owners (75%) are required to sign the D&D Amendment Form (copy attached to this newsletter). In order for the amendments to be rejected, 50 or more property owners (25%) are required. We need to hear from the remaining 38% property owners!
Over the past two months, HFCA Board of Directors have been reaching out to the remaining 76 property owners to solicit their decisions. The results have been very slow. If you have not yet provided a decision one way or the other, please choose one of the two options:
If you agree with the Amendments, please complete the Deed & Declaration Amendment Form, sign and date it and mail it to HFCA, P.O Box 2239, Fairfax, VA 22031.
If you do not agree with the amendments, please send your NO decision to our email address, hfca@hickoryfarms.org or mail it to HFCA, P.O Box 2239, Fairfax, VA 22031.
If you have questions or need more information, give me a call at 703-989-0751!
Almost two years have gone into this effort. There have been many Newsletter articles on the background and reasons to support the Amendments. The bottom line is your elected Board Members have requested your support of this effort to deal with the less than 1% of property owners who refuse to resolve violations which detract from all property owners in Hickory Farms. The Association had the authority to apply penalties from 1975 through 2010. In that timeframe, there were no cases of misuse or abuse of property owners. Virginia court decisions by 2010 required that an Association have express authority to apply penalties in their Deed & Declaration document, (which every Hickory Farms property owner received when they purchased their properties and a copy of which is also on our Hickory Farms website. The authority to assess penalties is targeted for the very rate property owner who has significant exterior violations and refuses all assistance and direction from the Architecture Control Committee (ACC) and HFCA Board to successfully resolve the violations. Over the 44 years of our Association, Hickory Farms property owners, who lived next door or across the street from non-cooperative property owners, have passionately appealed to the Board for relief and to take action against gross violations. Without the approved Amendments, the only option the Board has to deal with unresponsive properties with significant violations is court action which is very expensive, time consuming and will place upward pressure on our Annual Assessment fee.
The Deed & Declaration Amendment effort will be decided before for our Annual Meeting. For those who have responded, thanks again! For the 76 who are still deciding, please send in your signed Amendment Form or NO decision immediately! We need your participation and decision to reach resolution with the Amend-ment effort!
Thanks!
Bruce Bernhardt
Neighbor, VP and Board Member
The Benefits of Neighborhood Watch
Some neighborhoods may be more susceptible to crime than others; however, all should consider establishing a Neighborhood Watch Program. No matter what type of neighborhood you live in condominium, garden apartment, townhome, or single family home, the benefits are obvious.
PREVENTION OF CRIME Fairfax County crime statistics show Neighborhood Watch Programs aided the police department in reducing residential burglary by almost 60 percent from 1980 to 1993. This occurred even while the population increased by almost 250,000 people. In addition to reductions in residential burglary. Neighborhood Watch Programs have contributed to substantial declines in thefts of property, vandalism, fraud, sexual assaults and even traffic-related offenses. Watch Programs have even impacted upon crimes in nearby commercial areas, churches and schools.
The establishment of a Neighborhood Watch Program in a low-crime area is added assurance it will remain safe. Crime is rarely stationary and often moves from one neighborhood to another.
Source: Fairfax County Police Department; "An Introduction to Neighborhood Watch"
Please contact Debbi Buchanan at 703-307-7323 to volunteer just a few hours every two months for this worthy effort
How do you contact the Police?
Use the police, fire and rescue emergency number, 9-1-1, for crimes in progress and events which are life-threatening or immediately resulting in property damage. Call the nonemergency number, 703-691-2131, to report crimes which already occurred and when the suspect is no longer in the area and to advise police of suspicious activity that you have observed. On-line reporting (www.fairfaxcounty.gov/police) and Citizen Reporting Service (CRS) are the Fairfax County Police Departments newest methods of reporting to police.
Alcohol Violations
Civil Disputes
Destruction of Property
Disorderly Conduct
Larceny up to $5,000
Loitering
Lost Property
Noise Violations
Police Service
Solicitor Violations
Suspicious Events/Persons/Vehicles
Trespassing
Telephone Harassment/Threats Vehicle Tampering
Melissa Stark's Common Areas Status Report (Part 2)
Project Meadow and Oak/Hickory Forest Repopulation
This Spring we started the multi-year project to repopulate our nearly 21 acres with trees, shrubs, forbs, and perennials. The 1st phase is a meadow in the Upper Common Area (bookending the main island) and the start of an Oak/Hickory Forest on the Upper Common Area main island, as well as, Crabtree Island and the sledding hill in the Lower Commons. Below will go into more detail on what we are planting in these areas:
Trees & Shrubs
A majority of our plantings are going to be seedling trees and a couple of year old shrubs. Less mature trees develop better root systems and have a larger chance of survival. We have also planted twelve 5+ ft trees in the Upper and Lower Common Areas to add variety in the maturity of our tree canopy. Right now, a majority of our trees are older (which is fabulous!), but we need younger trees to get established to take their place, as older trees' health eventually will decline. In addition, seedlings require far less water, since their roots haven't been cut.
We have planted the following trees and shrubs:
Hazelnut, Pin Oak (2), Northern Red Oak (4), White Oak (1), Cloud 9 Dogwood (3), Cherokee Brave Dogwood (2), Eastern Redbud (6), Spicebush (4), Witchhazel (2), Black Chokeberry (6), Arrowwood Viburnum (7), Loblolly Pines (3), Pawpaw (1), Common Ninebarks (3), Gray Dogwood (2), Silky Dogwood (5), Serviceberry (3), False Indigo bush (2), Smooth Sumac (2), Sassafras (1), Bitternut Hickory (2), Button Bush (48) and Bald Cypress (2)
Perennials, Sedges and Forbs
In the 1st phase of our meadow and the woodlands understory, we are using deep plugs to populate our expansive Common Areas. Plugs are a more cost effective route at only $2 per plug vs. $8-$18 per mature plant. These plugs, although small, will start to mature and in the next year or two will develop a deep root system that will help prevent erosion, as well as provide many plentifully blooms and seeds to the bare spots that need to be populated.
We have planted over 1,000 perennials and forbs this spring! This may seem a lot but it really is a small fraction of what we will need to populate the understory of trees, as well as more perennials are needed for the 2nd phase of our meadow.
Below is the list of perennials, sedges & forbs that have been planted thus far. This list will grow and expand as we introduce more perennials, sedges & forbs to our commons area.
Woodlands
White woodland asters, woodland sunflowers, foam flower, cinnamon fern, hayscented fern, ostrich fern, leather wood fern, golden groundsel, thimbleweed, creeping phlox, cardinal flower, white turtlehead, Pennsylvania sedge, goat's beard, Dale's strain heuchera, yellow marsh marigold and celandine poppy.
Meadow
False ageratum hardy ageratum, iron butterfly narrow leaf ironweed, Eastern blue star, Zagreb tickseed, moonbeam tickseed, tall tickseed, greater tickseed, lanceleaf tickseed, smooth oxeye, Rosy Jane Wand Flower, Jeana garden phlox, lead plant, kobold gay feather, cardinal flower, obedient plant, "The Blues" little bluestem, scarlet and purple beebalm, spotted bee balm, common milkweed, swamp milkweed, butterfly milkweed, blue mist flower, aromatic aster, pinnate prairie coneflower, orange coneflower, black eyed susan, Rudbeckia "Indian Summer", pale purple coneflower, Eastern purple coneflower, stiff golden-rod, coastal plain joe pye weed, purple poppymallow, prairie rosinweed, purple giant hyssop, tango hum-mingbird mint, blanket flower, yarrows and zinnias.
Melissa Stark
Common Areas Coordinator
Cornhole!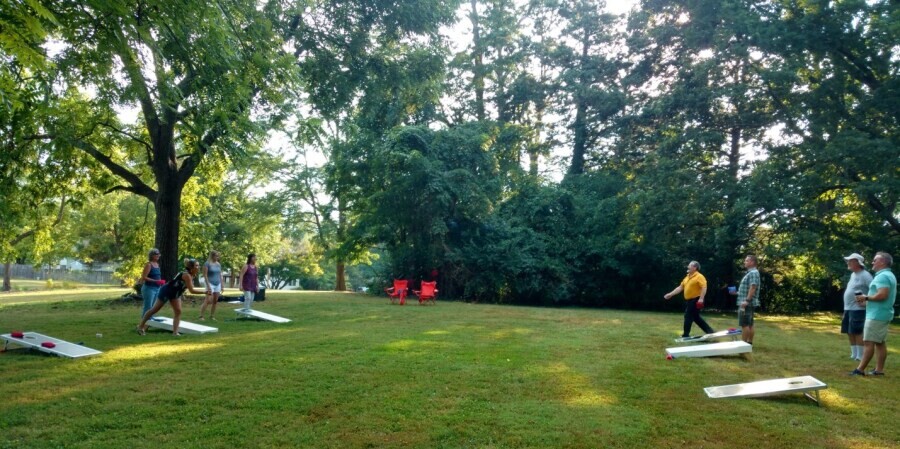 The Cornhole tournament is perfect for a summer day!