February 2021 Hickory Farms Newsletter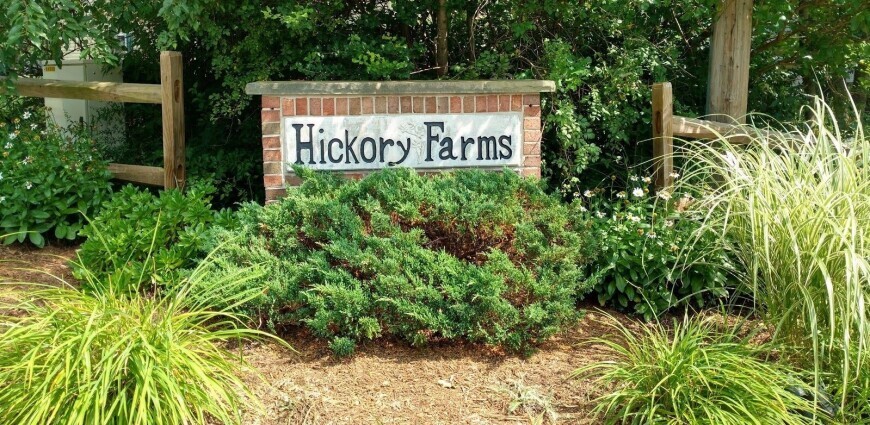 - Editor, Bill Berg (Farm House Ln)
Volunteer to Be a Hickory Farms Block Rep!
By: HFCA Social Committee
This month, we'll be launching a neighborhood Block Reps program to help us better connect with neighbors, encourage community involvement and make all our people feel welcome in Hickory Farms.
Block reps will work with the Social Committee to engage neighbors and will be responsible for:
Introducing yourself to current neighbors on your block
Greeting new neighbors on your block
Spreading the word about social events
We will finalize and assign two volunteers to each "block" once we have a full list of neighbors who would like to volunteer. If you're interested, please email the Social Committee at social@hickoryfarms.org. This will be a fun way to further bring our community together!
Active Fairfax Transportation Plan
By: Bob Cosgriff, Braddock District Representative and Vice-Chair Fairfax County Trails, Sidewalks and Bikeways Committee
The ActiveFairfax Transportation Plan is a multi-year effort by the Fairfax County Department of Transportation (FCDOT) to update, expand, and consolidate legacy plans for trails and bicycle routes as well as other modes of getting around without using a car, bus, or train. The resulting plan will become part of the County's Comprehensive Plan and will provide policy guidance for planning and building an integrated infrastructure to promote safe facilities for walking, biking, "rolling" (scooters, wheelchairs, strollers, etc.), hiking, running, and riding (equestrian).
An important part of the ActiveFairfax Transportation Plan development is gathering citizen input. Various methods of community outreach will be used to determine what county residents want to see in the way of non-motorized transportation options in the future. These include virtual and in-person meetings (when these can be done safely), as well as online and possibly mail-in surveys. The online survey functionality is under development at this time and should go active in the spring. The questions that need YOUR input are:
How do you actively travel around your community and throughout the County today?
How do you want to actively travel around/within your community and throughout the County in the future?
What current challenges need to be addressed to allow you to actively travel around your community and throughout the County more safely, conveniently and comfortably?
What big ideas (e.g., new facilities or programs) do you have to improve how you actively travel around your community and throughout the County?
Citizen input and other information gathered by the consultant hired by FCDOT will be used to create a vision that will guide the creation of the plan's specifics. The plan is scheduled to be completed by the end of 2022 and will be aligned with the County's Strategic Plan which being developed concurrently, as well as the "One Fairfax" policy to ensure social equity in County plans and projects so that all citizens benefit.
For more information about the ActiveFairfax Plan, please go to this site: https://www.fairfaxcounty.gov/transportation/bike-walk/activefairfax
Please Submit Your Nominations for Candidates by February 15th to Serve on the Hickory Farms Homeowners Association Board
By Jim Bever, Nominating Committee Chair (HFCA Board Treasurer)
On behalf of fellow Nominating Committee Members Debbi Buchanan (HFCA Board Chair for Neighborhood Watch) and Telah Jackson (HFCA Board Member At Large), this is an updated message. As homeowners were previously notified in late September, due to the complications of the pandemic and the need to find alternative electronic means if necessary for elections, elections were postponed until early 2021. At the Board Meeting in December, the Board voted to hold elections for the Board of Directors by no later than the end of March 2021. If you as a homeowner would like to be a candidate for the Board or would like to nominate a fellow homeowner for such (with his/her advance consent), please by February 15, 2021 email me at nc@hickoryfarms.org. You may also reach out by phone (571) 405-0708 with any questions for us. The February 15 date gives us time to organize and circulate the names of candidates via ballots/proxies for voting during March. Thank you and we wish you a Happy and Safe New Year!
Congratulations to Kathie Schmidt, voted by the HFCA Board as Interim President of HFCA, who will serve in such capacity until the 2021 Board is elected by the end of March. Kathie can be contacted via president@hickoryfarms.org. Homeowners interested in being considered to serve until the end of March as Interim Vice President or Interim Member-at-Large please let Jim Bever know via nc@hickoryfarms.org prior to the next Board Meeting on February 9, 7pm.
February HFCA Board Meeting
As a result of the COVID-19 pandemic, Hickory Farms Board Meetings are now conducted using the Zoom audio/video conference application. That means that every Hickory Farms Community Association member can observe their Board in action without leaving home! The next HFCA Board meeting will be held Tuesday, 09 February at 7pm. To join the meeting, contact any HFCA Board Member or send a request to join to hfca@hickoryfarms.org. You will also be provided with the Zoom meeting URL, meeting number and passcode.
Hickory Farms has a strong and consistent history of transparency regarding access by members to Board Meetings and the challenges facing our community. Please consider attending the Board Meeting so that you are fully informed with the issues facing our neighborhood!
Student Yellow Pages
If you offer services such as raking leaves, lawn mowing, babysitting, general home maintenance, dog walking, tutoring, etc., please email Bill at berg_bill@yahoo.com to be included.
| | | |
| --- | --- | --- |
| Bridgette Buchanan (17) | 703-307-7323 | Babysitting and dog sitting |
| Britney Mulliner (17) | 571-474-7277 | Babysitting and dog sitting |
| Cody Dempster (17) | 703-776-0101 | Yard work, snow shoveling, housework |
| Dominic Cannata (17) | 703-568-9896 | Lawn mowing, shovel snow, cleaning, mulching |
| Erika Maaseide (17) | 703-659-5321 | Babysitting; Special Needs experienced |
| Kiera Stark (11) | commonareas@hickoryfarms.org | Pet sitting, plant/tree watering, weed picking and leaf raking |
| Kent Codding (18) | 703-317-7319 | Shovel snow, yard work, leaf raking |
| Paul Cannata (18) | 786-445-5318 | Lawn mowing, shovel snow, cleaning, mulching |
| Xavier Gilmer (15) | 703-862-2192 | Shovel snow; lawn mowing |
| Jaden Singh (17) | 703-278-8800 | Math tutoring, snow shoveling |
| George Codding (14) | 703-223-4101 | Snow shovel, yard work, leaf raking |
Birds of Hickory Farms
By: Bob Cosgriff
New Year's Day marks the start of our annual backyard bird census. For five months, we count every species that we see in, from, or over our yard within a defined distance from our house. The year got off to a good start on 1 January with 20 species being tallied. Highlights of New Year's Day included a female Yellow-bellied Sapsucker, Northern Mockingbird, Yellow-rumped Warbler, and Ruby-crowned Kinglet. A few relatively common birds failed to appear on Day #1, but did so on subsequent days to bring our monthly total species count up to 30 by the time this article was submitted, besting our previous high of 29 in 2015 and above our January average of 27 species since 2013. Bird #30 was a Brown Creeper observed on 25 January.
In 2020, our daily average for January was 18 species. This year it is 21, with the high day of 25 species on 25 January. The highlight of the month was the unexpected appearance of a Pine Warbler on 11 January, with six subsequent visits. This is one of only two warblers that overwinters in Virginia (the other is the Yellow-rumped Warbler), but we had never before seen a Pine Warbler during the winter here. In fact, our only previous yard record was on April 5, 2019. There are two Hickory Farms records: one in the lower common area (4/15/08) and the other in upper common area (4/16/09). Another yard highlight was a Sharp-shinned Hawk on 9 January.
Our backyard count will run through 31 May; any other birds that appear after that date will be added to the year count. In 2020, we ended up with 73 species, including 16 warblers, both new highs that will be tough to beat. First-time sightings in 2020 included Indigo Bunting, Blue-headed Vireo, and Hooded Warbler, with an Ovenbird also making a second-ever appearance. We saw a Wood Thrush in the yard for the first time in over eight years. The fall season was highlighted by a Brown Creeper, one female Purple Finch, and a flock of irruptive Pine Siskins which stayed a few days and vanished! We're hoping to see them on the rebound in the next few months.
In December, I received the county-wide bluebird monitoring results. The pandemic did affect the 2020 totals because some trails were closed to monitors or the monitors themselves decided not to go out to do the counts. So overall numbers were down somewhat from 2019 across the county. That said, here are the totals of eggs laid/hatched/fledged, respectively: 2,086/1,739/1,664. The obvious thing that these numbers show is that there was nest box predation (only 80% of eggs laid resulted in a fledged bird). This predation can take several forms. Here in Hickory Farms, the major culprit is the invasive House Sparrow, which competes with bluebirds for nesting boxes and will destroy eggs, chicks, and even adult bluebirds. We have yet to solve this problem, which seems to be widespread in Fairfax County. To recap our numbers (laid/hatched/fledged), they were: 26/15/10. Our predation rate was much higher than the county's as a whole. This was a low year for our trail in terms of fledged birds. We are hoping for better results in 2021, to include a return of beautiful and beneficial Tree Swallows to the neighborhood.
You might have read in the Washington Post of the Painted Bunting that was spotted along the C&O canal towpath in Potomac, Maryland. This bird breeds in the coastal areas of South Carolina, Georgia and Florida, and typically migrates to the Caribbean in the winter, with some birds remaining in southern Florida. So this visitor was a long way from home. After the initial excitement died down, we drove over to try our luck and were rewarded with several minutes of good views of this multi-colored bird and even took several pictures of it. Check it out here: https://www.allaboutbirds.org/guide/Painted_Bunting/id Another vagrant bird was a Rufous Hummingbird that was seen, photographed, and banded at Green Spring Gardens Park in nearby Annandale. We made two trips there to try to see it, but had no luck. It is on our life list (we saw it in California years ago), but it would have been exciting to see it here.
Watching birds can be a rewarding hobby. During the pandemic, many people have been drawn to the outdoors to make up for the lack of other places to go. Generally, it is easy to avoid people in parks. However, it is better to go during a weekday than on a weekend. But you can see lots of good birds right here in the beautiful common areas of Hickory Farms or even in your own backyard. It is easy to set up a feeding station. Then just sit back and look out your window!
A Visit Back in Time and the Upper & Lower Commons Reforestation
By: Common Areas Committee
Our common areas have undergone a huge transformation, since mid-2017 when the HFCA Board of Directors (previous & present) decided to put focus on remediating, improving & maintaining our most valuable asset, our 20 + acres of Common Areas. In this short time, we have accomplished a lot! We have tackled the removal of .75 acres of bamboo (& battling its constant return for 2 years), the removal of invasive vines, dead trees, focusing on turf remediation & seeding, working with Fairfax County to come up with solutions for the erosion in our Resource Protection Area (RPA) area, finding a mowing company that is aligned with our goals in having our island edges neatly maintained and our turf cut every 7-10 days. We are putting more attention to our entrance sign areas & making improvements that will benefit not only the health of our common areas, but the use & enjoyment of our residents & their guests. All of these things have been tackled in a short amount of time and are showing fabulous results!
A part of the Common Areas Committee's (CAC) plan in 2020 and moving forward is to reforest the islands that were heavily impacted by bamboo & vine smothering growth and provide a healthy understory ground-cover. Partnering with Area Landscaping, Inc. on the landscaping design and planting for the Upper and Lower Commons, the BOD approved the planting & watering proposal of 34 native trees & 46 native shrubs. The reforestation planting was implemented on January 18th - 20th, 2021.
The results are awesome! You can really see the flow throughout the Upper Commons – Main Island and the Lower Commons – Crabtree Island. I can hardly wait for this spring when everything starts leafing out.
These trees & shrubs listed below were selected specifically for the soil & the native range for our area, their fall color, and the beneficial berries, flowers or acorns they produce to feed wildlife & pollinators.
| Quantity | Common Name | Type | Location |
| --- | --- | --- | --- |
| 3 | Red Maple | Tree | Upper Commons - Main Island |
| 4 | American Holly | Tree | Upper Commons - Main Island |
| 2 | American Hornbeam | Tree | Upper Commons - Main Island |
| 3 | Pignut Hickory | Tree | Upper Commons - Main Island |
| 2 | White Oak | Tree | Upper Commons - Main Island |
| 7 | Serviceberry | Tree | Upper Commons - Main Island |
| 5 | Redbud | Tree | Upper Commons - Main Island |
| 1 | Bald Cypress | Tree | Upper Commons - Main Island |
| 2 | Black Gum | Tree | Upper Commons - Main Island |
| 3 | Virginia Magnolia | Tree | Upper Commons - Main Island |
| 8 | Itea | Shrub | Upper Commons - Main Island |
| 7 | Winterberry | Shrub | Upper Commons - Main Island |
| 7 | Clethra | Shrub | Upper Commons - Main Island |
| 7 | Beautyberry | Shrub | Upper Commons - Main Island |
| 5 | Fothergilla | Shrub | Upper Commons - Main Island |
| 7 | Red Twig Dogwood | Shrub | Upper Commons - Main Island |
| 5 | Hypericum | Shrub | Upper Commons - Main Island |
| 1 | Pignut Hickory | Tree | Lower Commons - Crabtree Island |
| 1 | Redbud | Tree | Lower Commons - Crabtree Island |
Regarding the care and maintenance of our investment:
A majority of the trees have blue cylinders, are netted or have cages around them. This is to protect their young bark from being eaten or antler rubbed by deer, which has happened to some of our 2019 tree plantings. They will be removed once the trunk grows bigger in circumference and/or has a more mature protective bark.
The BOD has also approved watering our newly planted trees & shrubs in 2021 with Premium Lawn & Landscape. Premium will be driving a watering truck and hand watering the trees/shrubs marked with pink ribbon during the dry spells throughout the year, only as needed. The watering time period for newly planted trees is 2 years. The first year, being constant watering to ensure quality root establishment and the 2nd year only as needed, should there be significant dry spells.
Thank you to all of the past/present BOD's, CAC members and community members who have helped contribute to making our Common Areas look gorgeous! If you haven't had a chance to walk through and see the improvements, please plan a trip your next walk around.

Join Our Listserv
There's no better way to stay in touch than through our Hickory Farms email listserv. Visit hickoryfarms.org, click "Email Listserv" in the "For Residents" menu and follow the instructions.