October 2017 Hickory Farms Newsletter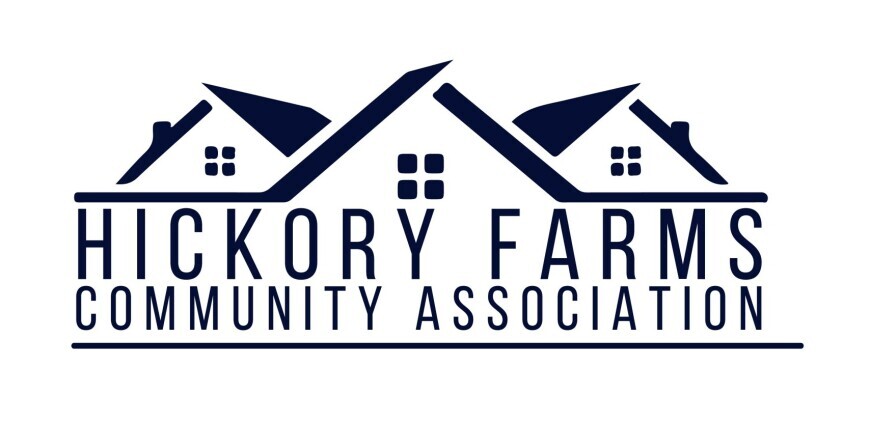 - Editor, Don Seymour (Farm House Ln)
Checklist for HFCA Annual Meeting
The Hickory Farms Community Association Annual Meeting is next Tuesday, October 10, 2017, at 8:00 PM at Green Acres, 4401 Sideburn Rd., Fairfax, VA 22030.
Here's what to do:
Review the agenda for the annual meeting.
Read the letter from HFCA President Bruce Bernhardt outlining proposed changes to the community Deed and Declarations.
Review the proposed changes to the Deed and Declarations.
Consider running for an open position on the HFCA Board of Directors.
Review the proxy ballot for items we'll be voting on.
Review the minutes from the 2016 annual meeting.
If you can't make it to the meeting, PLEASE submit the attached proxy ballot either via email or delivery by October 8.
Help Wanted
Our webmaster is looking for great photos that show off the beauty and uniqueness of our neighborhood: local wildlife, different seasons, common grounds and trails, historical imagery, community events, and more. If you have any photos that fit the bill, please send to: webmaster@hickoryfarms.org.
Halloween Party
Please join us on Saturday, October 28, at 4:30 PM for Hickory Farms' Annual Halloween Parade & Party! An entrée will be provided by the HOA but PLEASE sign up to bring a dish to share! For more information and to RSVP, visit: https://goo.gl/KFTPE3
HFCA Annual Meeting - Proposed Agenda
DATE: Tuesday, October 10, 2017
LOCATION: Green Acres (in cafeteria), 4401 Sideburn Rd., Fairfax, VA 22030
TIME: 8-10 PM
Opening, Welcome and Introductions
Quorum Verification
Approve 2016 Annual Meeting Minutes
2017 Review:

2017 Property Inspection Results
Deed and Declaration Changes
Common Area Bamboo Eradication
Neighborhood Watch

2018 Initiatives:

2018 Property Inspections
Deed and Declaration Changes
Common Area Strategic Plan
Common Area Encroachment Assessment
Insurance Assessment and Competitive Awards

Budget:

2017 Actuals vs. Estimate, and 2018 Estimate
2018 Assessment Amount. Vote to affirm 2018 Assessment Amount

2018 Board Elections
Open Floor Discussion
Volunteer Recognition
Adjourn
QUESTIONS? Email hfca@hickoryfarms.org
Deed and Declaration Changes - Petition Signing Starts October 10, 2017
- Bruce Bernhardt, HFCA President
Starting at the Annual Meeting on Tuesday, October 10, the petitions to change our HFCA Deed and Declaration document will be available for signature.
We are seeking signatures from all 198 of our Hickory Farms property owners.
In order to be valid, 150 of our 198 property owners must sign the petition.
At last year's Annual Meeting there was a detailed presentation on the need for the changes. To summarize, recent court decision in Virginia now require Home Owner Association property documents to contain explicit authority to apply charges for non-compliance with Restrictive Covenants and/or Association Rules and Regulations.
Hickory Farms currently has provisions in our Rules and Regulations that were in force before the court decisions. We either need to approve the Deed and Declaration changes or remove the enforcement provisions.
Our current Rules and Regulations are in compliance with the Virginia Property Owners Association Act (VPOAA) but can not be enforced without the Deed and Declaration changes being proposed in the petition.
Copies of the changes are included in this newsletter for your review).
If you have any questions regarding the changes, please send an email to hfca@hickoryfarms.org before the Annual Meeting or bring your questions to the meeting!
This is an issue that is important to keeping our community the attractive, highly valued neighborhood that we want to live in. Please make every effort to attend the Annual Meeting on Tuesday, October 10, 2017.
The HFCA Board of Directors Needs You!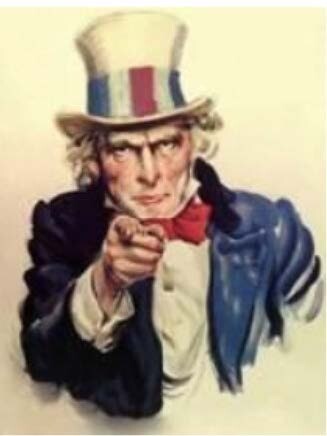 The annual election of HFCA Board Members and Officers is coming up on October 10 at our HFCA annual meeting at Green Acres. All Board of Director and Officer positions are open for nomination and nominations will be accepted from the floor at our annual meeting.
We currently have vacancies for 2018 in the following key positions: President, Newsletter Editor, and Lead Social Chair.
Please consider volunteering in 2018 as a member of the Board of Directors in order to keep our unbroken chain of volunteers going into decade number five!
Do you want to get involved or learn more about open positions? Please reach out to Melissa Stark, our 2017 Nominations Committee Chairperson, at melissa.hfca@gmail.com.
Abbreviated 2016 Annual Meeting Minutes
Hickory Farms Community Association (HFCA)
2016 Annual Meeting, Green Acres Community Center
October 18, 2016; 8:00 pm – 10:00 pm
Opening, Welcome and Introductions
Bruce Bernhardt welcomed the Members to the Annual Meeting and thanked them for attending. He introduced the members of the Board of Directors.
Quorum Verification
Forty two (42) Members of the Hickory Farms Community Association (HFCA) were present, with eighteen (18) Members represented via proxy. This provided a total of 60 Members represented, which provided the quorum required for the meeting.
Rules and Regulations
The Virginia Property Owners' Association Act (VPOAA) establishes legal requirements related to the authority of homeowner associations (HOAs). The VPOAA, as interpreted by District and Virginia Supreme Court decisions, establishes a requirement that the HOA's authority to act must be based on express language found in the legal documents that founded each HOA, specifically the Declaration. Based on the current assessment that the legal requirements and associated constraints established by the VPOAA and subsequent court rulings, HFCA appears to have three options:
Amend the Declaration, which would require written approval by 75% of the 198 Members (150 votes to amend).
Remove language authorizing monetary fines from the Rules and Regulations, since HFCA's founding documents, if left unchanged, provide no basis or authority for imposing them.
File civil lawsuits against Members to enforce compliance with the Declaration and Rules and Regulation. Implementing this option would mean that HFCA would have initial respon-sibility for the costs of litigation which would be recouped from the Member only if the HFCA prevails. Bruce noted that any Member may also initiate a lawsuit.
The HFCA Board recommends pursuing Options 1 and 2, with Option 2 as a contingency if Option 1 is unsuccessful.
An extensive discussion about various issues throughout the community has held. Concerns included lack of appropriate yard care (including edging of sidewalks and curbs), worn or broken shutters, mold on the side of homes, sidewalks requiring repair, etc.
After a discussion during which Members raised questions and key points, a motion to pursue Option 1 was made, seconded and approved.
* * READ THE FULL MINUTES AT HICKORYFARMS.ORG * *
Scenes From Bunco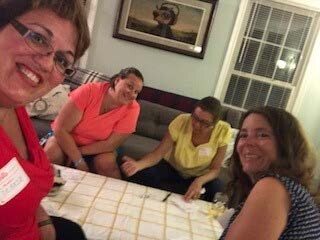 We have 12 regular players and meet the 3rd Thursday of the month at 7:00 PM.
But when someone can't make it, we need a substitute. For questions or to be added to the sub list, email Krissy at krissylunsford@gmail.com.

ACC Activity
An update on the (many!) improvements to the neighborhood that have been submitted to the Architectural Control Committee (ACC) for review.
JUNE APPROVALS
4278 Country Squire: Wrap Trim; Replace Garage Door, Soffits
10000 Tumbleweed: Replace/install Shutters
JULY APPROVALS
10112 Spinning Wheel :Install Vinyl Bead-board/Soffit on Carport Ceiling
4358 Harvester Farm: Modification to Approved ACC Application: Install Metal Roof over Porch
10115 Spinning Wheel: Paint Siding, Shutters & Front Door
4377 Harvester Farm: Replace Front Door
10115 Spinning Wheel: Install Sliding Door & Deck
10119 Spinning Wheel: Replace Siding, Shutters, Gutters/Downspouts, Front & Storm Doors and Wrap Trim
AUGUST APPROVALS
10002 Cotton Farm: Replace Roof, Siding, Gutters, Front Door, Exterior Lighting
4279 Country Squire: Widen Front Walk, Install Flagstone Cap on Existing Rear Walk, Add Additional Rear Flagstone Walk and Replace Rear Retaining Wall
4327 Still Meadow: Replace Front Door, Paint Door Trim, Paint Shutters
10005 Tumbleweed: Paint Shutters, Door and Door Trim
4371 Harvester Farm: Alter Fence Style/Color, Change Patio Materials/Size, Add Rear Patio Steps/Walk and Install Paver Perimeter Around Portion of Home
10011 Cotton Farm: Widen Driveway & Carport; Extend Front Door Stoop
4358 Harvester Farm: ACC Application Revision: Replace Vinyl Siding with Stone Veneer Under New Porch
SEPTEMBER APPROVALS
10012 Cotton Farm: Install Solar Panel Array
10014 Round Top: Replace Windows, Wrap Trim and Shadow boxes, Paint Rake Boards & Gable Vents
4377 Farm House: Install Fence
10002 Tumble Weed: Install New Garage
Community Kudos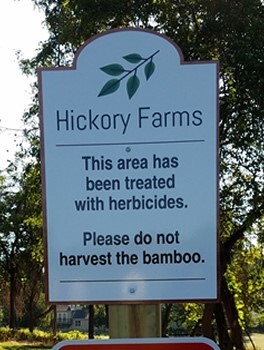 Big shout-out to Pete Scala for organizing another great neighborhood yard sale in September.
We had 16 houses participate this year (which is great, and brought the cost down to only $6 each). The weather was beautiful, we had a lot of buyers come through (editor's note: our stuff was basically gone by 8 AM), and everyone seemed to have a good time.
Also thanks to the folks who returned the yard sale signs to Pete from Country Squire and from outside the neighborhood.
Also a tip of the hat to Melissa Stark, our common areas coordinator, for getting these new signs (see on the right) in the upper commons to alert people to the treatment being applied to the bamboo.
Download Files
Contents