October 2023 Hickory Farms Newsletter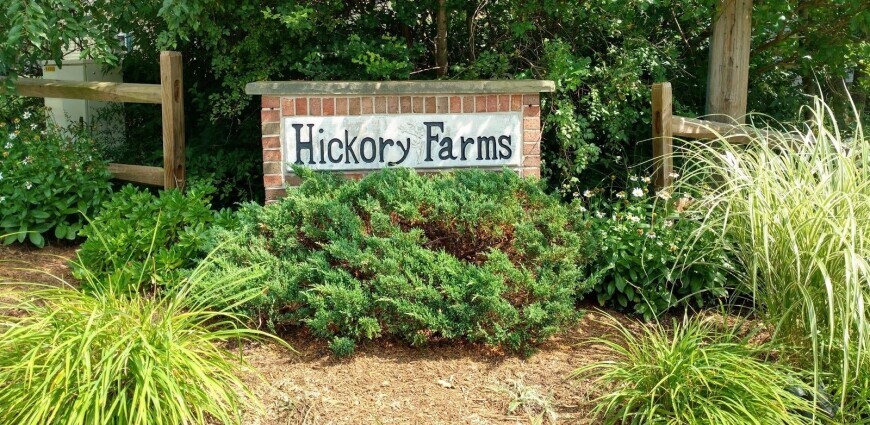 - Editor, Jennifer Maloney (Farm House Ln)
Hickory Farms Community Association Annual Meeting
The Hickory Farms Community Association Annual Meeting will be held October 17th, 2023, at 7 pm via Microsoft Teams.
Under the provisions of the Hickory Farms By-Laws, to achieve a quorum, we need you to attend this online meeting, or supply your proxy. If you are unable to attend the meeting, you have several options:
You may submit your proxy online here: https://forms.office.com/r/PkFy6pkdAG
You will need to supply the unique survey ID for your property address, which was mailed to you last month. If you have trouble locating your unique ID please email secretary@hickoryfarms.org.
You may scan and email a signed copy of the completed proxy to: secretary@hickoryfarms.org
You may mail a signed, completed proxy to:
Hickory Farms Community Association
P.O. Box 2239
Fairfax, VA 22032
NOTE: All ballots must be returned no later than October 15th, 2023, to ensure they are counted.
HFCA Board Meeting Notice
HFCA Board Meetings continue to be held via Zoom. Unless otherwise notified or due to an unforeseen change, HFCA Board Meetings will be held the 2nd Tuesday of the month at 7 pm.
To join a Board meeting, contact any HFCA Board Member or send a request to join to hfca@hickoryfarms.org. You will be provided with the Zoom meeting URL, meeting number and passcode.
Architectural Control Committee Home Inspections and Applications Update
By Justin Mensen - HFCA ACC Chairperson
At the end of May a community inspection was completed by the Architectural Control Committee. Several items were noted on many homes in the community.
129 houses were noted as having stained or damaged chimneys. If your chimney doesn't have clean bricks, intact and clean mortar, and a top cover with screen you may want to investigate having a professional service come inspect, clean, and perform any preventive maintenance that may be necessary.

77 houses were noted as having stains, mildew, or discoloration of the siding. In many cases this could be addressed by having the house power washed. The Maintenance resources on the Hickory Farms website (https://hickoryfarms.org/home-maintenance) recommends pressure washing the siding every 3-5 years. Notably north facing surfaces tended to have more issues as they get very little direct sunlight.

70 houses were noted as having shutters that were faded or discolored, missing, damaged, or mismatched. In many cases Rust-Oleum Wipe New ReColor, available on Amazon for under $25, has been found to work extremely well to bring vinyl shutters back to original appearance. There is also warranty claim information for many of the vinyl shutters on the Hickory Farms website towards the bottom of the page (https://hickoryfarms.org/home-maintenance).

67 houses were noted as having rain gutters that were damaged, stained, or covered with leaves.

39 houses were noted as having roof issues. Typically, these consisted of streaking, staining, and/or warping shingles that may indicate they may need to be replaced to prevent leaks and water damage. Additionally, in very shady parts of the community algae growth was noted as well. There are companies that offer Soft Wash services for roofs to address some of these cosmetic issues without damaging your roof.

27 houses were noted as having issues with trees/shrubs most commonly being overgrown with the worst cases being plants that were blocking sidewalks or driveways preventing the use of carports and garages in some cases. There were 17 houses with noted issues for flowerbeds.

23 carports were noted as having a cluttered, unsightly appearance, or otherwise being used for purposes other than storing vehicles.

21 houses were noted as having issues with windows/trim and 20 houses were noted as having issues with Louvers/Grills (attic vents).

20 houses were noted as having sanitary containers forward of the house in clear violation of the rules and regulations, which state:

Garbage shall be set out only on trash collection days, or the evening prior to scheduled pickup, and shall be removed from street-side on the collection day. This is to maintain an attractive appearance and to avoid attracting rats and raccoons. Sanitary containers shall otherwise not be forward of the house.
Several houses were also noted as having fences that were not approved by the Architectural Control Committee and that do not comply with the rules and regulations, which can be reviewed here: https://hickoryfarms.org/rules-and-regulations
As a result of this inspection and follow-up discussions among the Architectural Control Committee, 10 property homeowners will be notified via letters from the Architectural Control Committee of the need to address multiple issues that negatively impact the appearance of the overall community. Even for those who were not notified at this time all the noted issues were recorded to be compared against future inspections. The goal of doing this is to balance giving homeowners a reasonable amount of time to address minor issues against the need to prevent houses from becoming blighted due to not doing proper preventive maintenance and repair work when necessary.
Additionally, please review Property Inspection Checklist and the Hickory Farms ACC procedures located here: https://hickoryfarms.org/acc-operating-procedures as well as the ACC Approval Process webpage, which contains the application form for ACC Approval of projects that require approval located here: https://hickoryfarms.org/acc-approval-process
Finally, here is a list of ACC Approved Applications since I have taken over as the ACC Chairperson:
March
10021 Cotton Farm – Fence enclosure around section of carport
April
10012 Cotton Farm – Install Fence, Replace Paver Patio, and Install a Green House
10014 Cotton Farm – Shed Replacement
4361 Farm House – Replace Front Retaining Wall
4351 Harvester Farm – Approval to Paint Shutters
May
10019 Cotton Farm – Replace Shingles
10004 Tumbleweed – Shed Replacement
4358 Farm House – Side Walk Update and Construct Patio and Fire Pit
June
4380 Still Meadow – Approval to Paint Front Door
10014 Cotton Farm – Shed Replacement and Enclose Carport Sunroom
4280 Country Squire – Replace Back Deck
4316 Farm House – Shed Replacement
4313 Still Meadow – Roof Replacement
July
10021 Cotton Farm – Concrete Stain and Storage Shed Construction
August
10021 Cotton Farm – Deck Repair and Stain
4352 Farm House – Shed Replacement
10110 Spinning Wheel – Solar Panel Installation
September
4344 Farm House – Fence Stain
If you have any questions about the inspection process, ACC Procedures, or the ACC Approval Process please contact the ACC at: acc@hickoryfarms.org
Looking at Selling Your Home Soon?
Please visit our Selling Your Home page to get started on your disclosure packet to ensure it is delivered in a timely manner prior to closing. Please note that it can take up to 4 weeks and it is highly recommended that you start the process prior to the date your home gets listed.
HFCA Fall Fest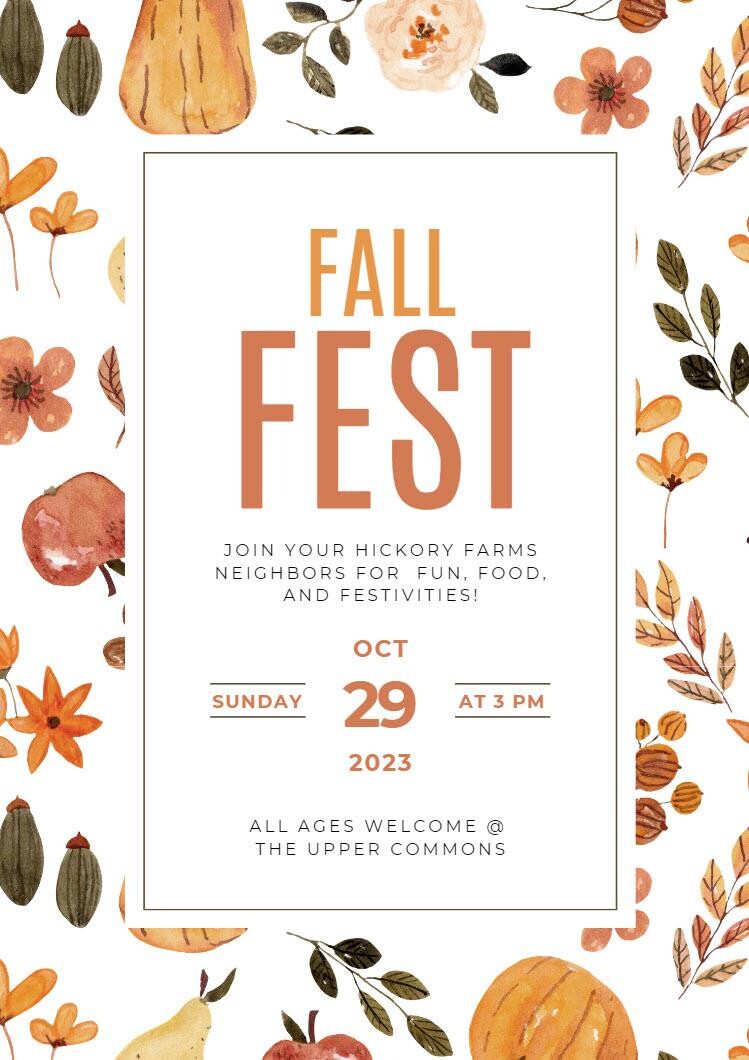 Student Yellow Pages
If you offer services such as those listed above, or others such as tutoring, etc., and wish to be included in future listings, please email the Newsletter Editor at newsletter@hickoryfarms.org.
Join Our ListServ
Don't miss any news! Join the Hickory Farms Listserv! Hickory Farms utilizes Google Groups to manage our listserv. This platform is simple, easy to use and free. If you don't have a Gmail account, you can sign up for one at http://www.gmail.com.
Once you have an account, visit https://groups.google.com/my-groups to sign into Google Groups. From there, go straight to http://groups.google.com/g/hickory-farms-hoa/ and click the "Ask to Join." In the Reason for Joining, please include your address, phone number, and own/rent status to include in the neighborhood directory.
Once your membership is approved, you'll receive emails when they are sent to the listserv. You can adjust your membership settings - like changing single emails to a weekly digest - in your Google Groups Settings.
Please don't forget to review the guidelines on the Hickory Farms website here: https://hickoryfarms.org/ hickory-farms-listserv . There's also information on how to post to the listserv, manage your account and more.
Finally, if you need basic Google Groups help, visit: https://support.google.com/groups/answer/1067205? hl=en. You can always contact the admins of the listserv for help or questions by emailing hickory-farms-hoa+managers@googlegroups.com.
Newsletter Item Deadline and Distribution Notice
Newsletter items are due the 25th of the month, for the next month's issue. Please send submissions to newsletter@hickoryfarms.org.
Newsletters are distributed via the HFCA listserv and posted on the HFCA website. Paper versions of the newsletters are no longer delivered to households. All are encouraged to access the digital newsletter via the listserv or the HFCA website.
Download Files
Contents