September 2018 Hickory Farms Newsletter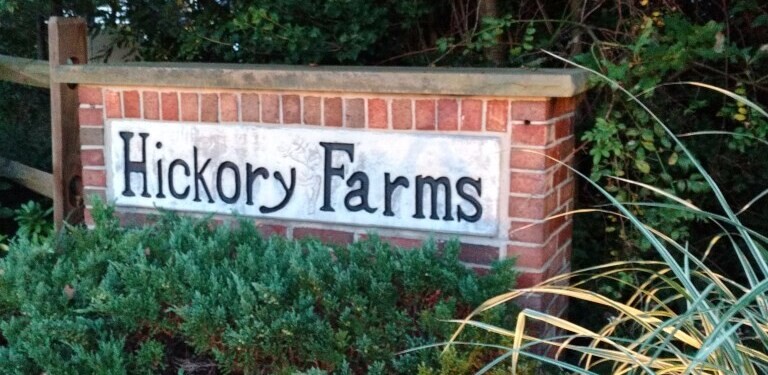 Solar lighting of the Hickory Farms entry signage makes a real difference! - Editor, Chuck Stewart (Still Meadow Rd)
Hickory Farms Calendar for 2018
All social committee activities are held in the upper Commons Field. For Board meeting location please contact a Board member.
Sept 9 - Board of Directors Meeting
Sept 22 - Volunteer Appreciation Celebration (ALL)
Oct 2 - Board of Directors Meeting
Oct 11 - HFCA Annual Meeting at Green Acres
Oct 20 - Monster Mash Bash (ALL) (Growing and Growing Bigger!)
Annual Meeting Approaching
The annual election of HFCA Board Members and Officers is now underway. The HFCA Treasurer, Dante, is the 2018 Nominations Committee Chairperson.
If you would like to nominate yourself or a neighbor for a Board position, please contact Dante at 703-978-0621 or dantegilmer@hotmail.com, so that he can include candidate names on the nominations slate to be voted on at our October Annual Meeting. Nominations will also be accepted from the floor at the Annual Meeting.
Deed and Declaration Change Is Important and We Need Your Help!
To those who have signed and sent in the form, Thank You! To whose who are wondering what this is all about, please read Bruce's article on page 7 carefully.
When Hickory Farms was started, the Board would send a letter, then fine, and then go to the lawyers. The homeowner would end up with the cost of the lawyers as well. Because of a Virginia court's ruling, we now have a letter, followed going to the lawyers. The proposed Deed and Declaration change returns the extra step before going to the lawyers and lowers everyone's costs.
Hickory Farms Annual Meeting
DATE: Thursday, October 11, 2018
LOCATION: Green Acres (in cafeteria),
4401 Sideburn Rd., Fairfax, VA 22030
TIME: 8 - 10 PM
PROPOSED AGENDA
Opening, Welcome and Introductions
Quorum Verification
Approve 2017 Annual Meeting Minutes
2018 Review:

2018 Property Inspection Results
Deed and Declaration Changes
Common Area Bamboo Eradication
Neighborhood Watch

2018 Initiatives:

2018 Property Inspections
Deed and Declaration Changes
Common Area Strategic Plan
Mapping
Insurance Assessment
By-Laws Changes

Budget:

2018 Actual vs. Estimate, and 2019 Estimate
2019 Assessment Amount.
Vote to affirm 2019 Assessment Amount

2019 Board Elections
Open Floor Discussion
Volunteer Recognition
Adjourn
Hickory Farms Community Association (HFCA) Proposed 2019 Budget
Income
Annual Assessments (198 homes at $200 each)
$39,600
Assessments — Late Fees
$0
Interest - Money Market Acct
$12
Advertising
$1200
Total
$40,812
Expenses
Common Grounds Maintenance
$23,000
Common Grounds Improvement
$7,000
Common Grounds Remediation
$4,000
Insurance - Director's Liability & Surety
$2,000
Insurance - Commercial Crime Insurance
$600
Insurance - General Liability
$300
Legal Fees
$2,000
Postage
$250
Neighborhood Watch
$200
Printing
$1,500
Social Activities
$1,500
Tax Preparation
$325
Taxes
$240
Administration
$800
Total Expenses
$43,715
Net Income (loss)
($2,903)
Notes:

$40,000 Reserve Fund as of 10/09/2018 – It is HFCA policy to maintain a reserve fund invested in low risk financial instruments.
The 2018 budget and setting of the 2019 annual assessment were approved by the HFCA Board of Directors on September 11, 2019. Under the Hickory Farms Bylaws and the Virginia Property Owners Association Act, the Board of Directors must approve a budget and set an annual assessment for the forthcoming year.
Final Push to Approve Deed and Declaration Changes – Request Response from 122 Hickory Farms Property Owners!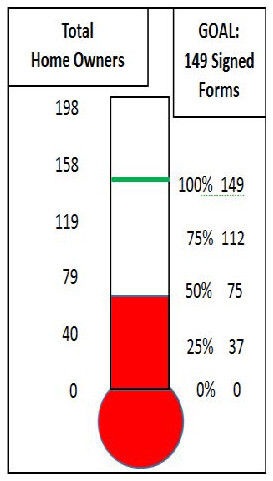 Attached to this newsletter is a form for amending out Hickory Farms Deed of Dedication and Declaration of Covenants (Deed and Declaration) document. During the 2017 HFCA Annual Meeting a detailed presentation presented the background for the proposed amendment. The HFCA Board recommended amending the Deed and Declaration document and those in attendance at the meeting agreed with the recommendation by the Board. In summary, two court cases in Virginia* have ruled that Homeowner Association authority to assess penalties for violations of Association covenants and rules and regulations must be expressly stated in Association governing documents. When our documents were created in 1975, the wording used in the documents did not include such an express statement. Following review of the court decisions, review of Virginia Property Owners Association Act (VPOAA) provisions and discussion with our attorney, the attached Amendment Form was developed to include express language in our Deed and Declaration document which complies with VA court decisions and VPOAA provisions. In order for the amendment to become effective, 75% (149 of our 198 property owners) must approve the amendment in writing. If more than 25% (50) of our HF homeowners reject the proposed amendment, the changes will not be effective.
Since the 2017 Annual Meeting last October, multiple articles have been included in the HF Newsletter seeking writing approvals from all 198 HF property owners. To date, 75 property owners approved the Amendment and signed the Amendment Form. To date, one property owner has responded by email with a NO vote on the amendment. For the 76 property owners that have responded, thank you! For the 122 property owners who have not provided input to this very important decision, we need to hear from you - now. We are planning to complete the Amendment approval process in time for our 2018 Annual Meeting in October. To meet this schedule, please complete one of the two following actions:
If you agree with the HFCA Board recommended changes to the Deed and Declaration document, please sign the Amendment Form and mail it to: HFCA, P.O. Box 2239, Fairfax, VA 22031. If your property is owned by one person, one signature and date are required. If jointly owned, both signatures are required. If your property is part of a Trust, the Trustee must sign the Amendment Form.
 
If you do not agree with the Amendment, please send your NO vote back to me via text (703-989-0751) or email (hfca@hickoryfarms.org).
Please don't put this off! We need to hear from the remaining 122 property owners as soon as possible! If you have any questions, please call me directly at 703-989-0751 and leave a voice message, I will return your call!
Thanks!
Bruce Bernhardt
HFCA Vice President
---
*Court cases: Farran v. Olde Belhaven Towne Owners Ass'n Case No. CL-2009-11786, 80 Va. Cir. 508; 2010 Va. Cir. LEXIS 92 and Shadowood Condominium Assn., vs. FC Redevelopment & Housing Authority: VA Supreme Court, 6/22/2012
HFCA President's Note: This is an opportunity to avoid spending Association funds up front in seek-ing individual property owner's compliance. What is there not to like?! Skeptical? Call Bruce!
Amendments to By-Laws Up For Approval at October 11 Annual Meeting
In consultation with our attorneys, the Board of Directors (BOD) has drafted proposed amendments to the Association's By-Laws, which have not been substantially updated since 1987. These amendments are to be considered by the Members at the October 11, 2018, Annual Meeting. The current By-Laws may be viewed at https://hickoryfarms.org/archive/By-Laws.htm The proposed By-Laws may be viewed at https://1drv.ms/b/s!Ari3TYN7l4KegaBdRcaVrrZRGTvWjQ If you cannot access this link, please email Kirk_Randall@Hotmail.com. You are welcome to present your comments in advance of the meeting by emailing the BOD at HFCA@HickoryFarms.org
The proposed amendments under consideration are:
Article III, Section 5 – Description of proxy reworded; no change in substance.
 
Article IV, Section 6 – Authorizes the BOD to vote by email and requires that such actions be recorded in the minutes of the next meeting of the BOD.
 
Article V, Section 3 – Existing language requires election to the BOD be made by written ballot only. The amend-ment authorizes that the Members present at the meeting may unanimously agree that votes may be cast by an-other method, including election of candidates by voice vote acclamation.
 
Article VI, New Section 4 – Announcement of Board of Director meetings shall be published where it is reasonably calculated to be available to a majority of the Members (i.e., Newsletter).
 
Article VII, New Section (g) adds a new duty of the BOD to ensure an orderly transition of custody of the Associa-tion's books and records when members join or depart from the BOD.
 
Article VIII, Section 7(d) – Under the current By-Laws, the Treasurer is required to "cause an annual audit of the Association books to be made by a public accountant at the completion of each year." The proposed amendment provides that the Treasurer "cause an annual review of the Association books to be made by a public accountant or a minimum of three Hickory Farms Association members at the completion of each year."
 
Article X – The existing language states "The books, records and papers of the Association are to be subject to inspection by any member. Copies of the Declaration, the Articles of Incorporation and the By-Laws of the Associ-ation may be purchased at cost." The following language was recommended by the Association's attorney: "In compliance with the requirements of Virginia Property Owners Association Act, as it may be amended from time to time, the Association shall keep detailed records of receipts and expenditures affecting the operation and ad-ministration of the Association. All financial books and records shall be kept in accordance with generally accept-ed accounting practices. The books, records, and papers of the Association are to be subject to inspection by any Member, subject to the exclusions in the Virginia Property Owners Association Act as that Act may be amended from time to time. If a Member requests copies of the Association's books and records, the VPOAA permits the Association to impose and collect a charge, reflecting the reasonable costs of materials and labor, not to exceed the actual costs of providing such documents. The 1) Articles of Incorporation 2) Deed of Dedication and Declara-tion of Covenants, Conditions and Restrictions, 3) Rules and Regulations, 4) By-Laws of the Association and 5) minutes of meetings shall be made available for viewing by Members on the Association's web page."
 
Article XI, Section 5 – New provision that the Association's reserve fund shall be invested prudently by the BOD such that it can be accessed readily, when needed.
 
Article XII -Corporate Seal Deleted – The Association is no longer required to maintain a corporate seal.
Neighborhood Watch Schedule
We are working to enlist 50 residents/teams on the roster! Contact Debbi Buchanan at 703.307.7323 or simplydebbi1@gmail.com for information or to be added to the roster.
| Day | Date | Person 1 | Person 2 |
| --- | --- | --- | --- |
| Fri | Aug 31 | Rick Loranger | Judy Loranger |
| Sat | Sep 1 | Harry Herchert | Ginny Herchert |
| Fri | Sep 7 | Jason Zhao | Laura Feng |
| Sat | Sep 8 | Brian Roethlisberger | Rob Mikula |
| Fri | Sep 14 | Wendy Chen | Tony Dong |
| Sat | Sep 15 | David Tropiano | Sarah Tropiano |
| Fri | Sep 21 | Pam Barrett | Tom Barrett |
| Sat | Sep 22 | Jamie Cutierrez | Ed Wagner |
| Fri | Sep 28 | Jim Marshall | Carol Marshall |
| Sat | Sep 29 | Eric Maribojoc | Clarisa Dacanay |
Volunteer Appreciation Happy Hour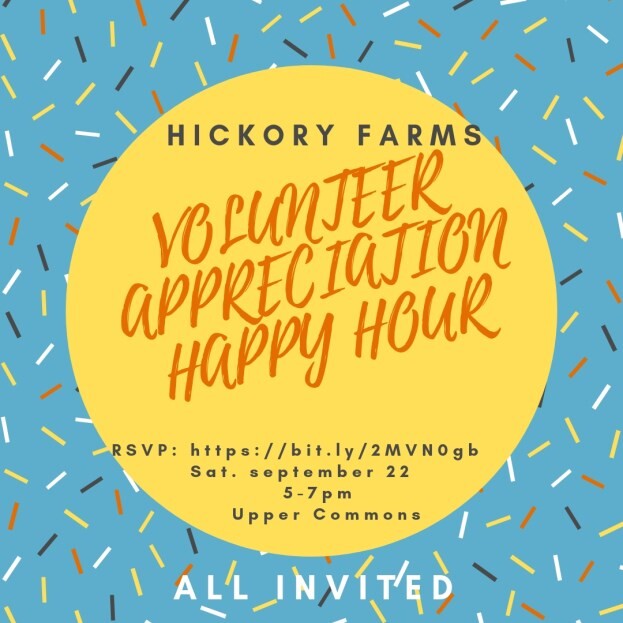 Come raise a glass to our amazing team of Hickory Farms volunteers! Meet, mingle and connect with refreshments and light hors d'oeuvres. Hickory Farms residents of all ages are invited!
Date: 09/22/2018 (Sat.)
Time: 5:00pm - 7:00pm EDT
Location: Hickory Farms - Upper Commons
RSVP: https://bit.ly/2MVN0gb
Fuzzy Blankets and Fuzzy Streets
Everyone likes fuzzy blankets, but not fuzzy streets. Fuzzy streets are streets, curbs or sidewalks with weeds growing in the cracks. They create an abandoned look or even apocalyptic esthetic that does not enhance curb appeal. If you use a lawn service, consider the question; if the lawns service does not remove the lawn falling down the curb into the street, or the even the grass growing between the asphalt and the concrete, am I receiving full value for my money? Is this image of the property that you liked enough to buy?
Grass and weeds growing in the cracks in the asphalt exert a tremendous pressure on the asphalt or concrete. This in turn can break the asphalt or concrete. Weeds can reclaim unused roadways and contribute to urban blight. Here are some photos from our HF neighborhood.

Architectural Control Committee Activity
July 2018
10005 Cotton Farm - Replace Roof & Gutters
10000 Cotton Farm - Install Propane Tank
August 2018
4301 Still Meadow - Remove carport window
4358 Farm House - Install New Patio & Walkway
4356 Farm House - Install New Shed
September 2018
4327 Still Meadow - Install portico, front door, trim & paint shutters
4334 Still Meadow - Install New Roof & Skylights
10036 Wheatfield - Install New Roof
Student Yellow Pages
If you wish to offer services such as snow removal, raking leaves, lawn mowing, babysitting, general home maintenance, etc., email kirk_randall@hotmail.com
Paul Cannata (18)
786-445-5318
Mowing, shoveling, cleaning, mulching or just about any odd job you can come up with.
Dominic Cannata (17)
703-568-9896
Mowing, shoveling, cleaning, mulching or just about any odd job you can come up with.
Cody Dempster (16)
703-776-0101
Yard work (raking leaves, lawn mowing, etc.) snow shoveling, housework
Erika Maaseide (16)
703 659-5321
Babysitting; has experience with Special Needs children
Dylan Mehrman (16)
478-230-5066
Lawn mowing
Britney Mulliner (17)
571-474-7277
Babysitting (6 years experience including newborns) and dog
Anna Rashkover (17)
703-426-2451
Babysitting, dog sitting & dog walking