February 2020 Hickory Farms Newsletter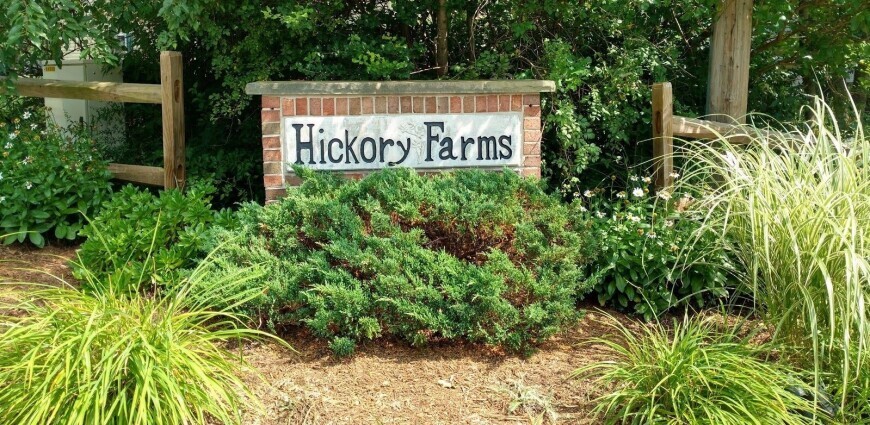 - Editor, Bill Berg (Farm House Ln)
A New Board of Directors for the New Year
After many, many years of volunteer service to our community, Dante Gilmer (Treasurer), John Kitzmiller (Secretary), and Bruce Bernhardt (Vice President) have stepped down from their Board responsibilities. We also have two new members. Kathie Schmidt (Round Top) has
generously volunteered to serve as our Vice President and Bill Berg (Farm House) has joined the Board to take over Newsletter editorial duties from President Chuck Stewart. Current Board members Debbi Buchanan and Telah Jackson have temporarily taken on the duties of
Secretary.
Thanks to all of you for volunteering on behalf of our community. However, we still have a few vacancies. Please volunteer now! Your total time commitment will likely be just 3-4 hours a month. We are in dire need for a Secretary and an Assistant Treasurer to work with Jim Bever.
Please Read This if You Plan to Sell Your Home
Homeowners, when you sell your home in Hickory Farms, you are required by Virginia law to give to the purchaser the Hickory Farms Community Association's (Association) Virginia Property Owners' Association Act (VPOAA) Disclosure Packet.
Under Section 3.1(d) of the Association's Rules and Regulations, beginning January 1, 2020, homeowners planning to sell their homes will be assessed a $146.71 fee for the preparation and delivery of a Disclosure Packet. This fee complies with Common Interest Community Board regulations under the VPOAA.
You or your agent need to contact both the Treasurer at Treasurer@HickoryFarms.org and Architectural Control Committee (ACC) chairperson at ACC@HickoryFarms.org to request a Disclosure Packet. You need to submit your request at least four weeks prior to closing in order
to give our volunteer Board members adequate time to respond. Regardless of whom requests the Disclosure Packet, you the homeowner are legally responsible under VPOAA to ensure it gets delivered to the purchaser in a timely manner.
The purchaser may cancel the contract for any reason within three days of receiving the
Disclosure Packet.
The Hickory Farms Disclosure Packet comes in two parts:
Part 1 contains specific information about your property. Before Part 1 is emailed to you by the Treasurer, your property exterior will be inspected by a member of the Architectural Control Committee (ACC) to determine compliance with the Hickory Farms Rules and Regulations and Restrictive Covenants (See Article VII). If it is not in compliance, the Part 1 letter will direct you to bring the property into compliance before closing. If you refuse to comply, the purchaser could cancel the sale. A member of the ACC may arrive unannounced to see if someone is home before inspecting the property. If no one is at home, they will do a quick walk around the property. If you do not want the person to enter your yard unattended, (if, say, you have a dog), you must arrange a meeting time.
Part 2 contains general information applicable to all homes in Hickory Farms. This document is available for free download by clicking this link
When you receive the Disclosure Packet, you or your real estate agent should immediately forward a copy to 1) the purchaser and 2) your settlement agent.
The $146.71 fee must be paid before Part 1 can be delivered to you.
You may pay by a check or money order made out to "HFCA." Write your Hickory Farms address and telephone number on it. Mail it to HFCA, P.O. Box 2239, Fairfax VA 22031. We encourage you to mail it at the same time you contact us to request Part 1 of the Disclosure Packet. This gives time for U.S mail, holidays, Sundays, and for deposit and clearing of the check at our bank, as well as resolving delays, misdirected checks, etc.
For a small additional processing fee, you may wish to pay by credit card or Paypal which will be paid electronically into HFCA's account as your having paid in hours, not days. Email Treasurer@HickoryFarms.org for more information.
Attention All Landlords
Make sure the Treasurer (Treasurer@Hickoryfarms.org) and (Kirk_Randall@Hotmail.com) have your current contact information so you may receive newsletters and other information such as notices of annual dues. If your property is being managed by a real estate agent, please ensure the agent's contact information is also given to the Treasurer.
Important Information About Trash Pick Up
Two trash disposal companies serve Hickory Farms, AAA/Republic and American Disposal. As of 2018, American picked up trash on Tuesdays and Fridays and AAA/Republic on Mondays and Thursdays. Around this time last year, American decided to cancel their Friday pickup and reduced the monthly fee by a couple of collars. Once-a-week collections seem to be the trend these days. If you are a current AAA/Republic customer, you should have recently received a letter announcing that they will discontinue Monday and Thursday pickups and replace them with a Tuesday-only pickup beginning March 3. Now, both companies will pick up trash and recycling on Tuesdays, and yard debris on Wednesdays. The good news is that our community now has three trash-truck free days as compared with zero before. While our streets will now be more cluttered with trash cans on Tuesdays; our Mondays, Thursdays, and Fridays should be trashcan free and a bit quieter since trash trucks won't be rolling through our community.
Real ID
Beginning October 1, you will not be able to board an airplane or enter a federal facility unless you have a Real ID driver's license, which has a star in the upper right hand corner. See https://www.dmv.virginia.gov/drivers/#real_id.asp.
Be prepared to wait a long, long time, so bring a book, watch a video, or listen to music (headphones, please!). We spent 4½ hours at the Fair Oaks Mall last week. The waits will likely lengthen the closer we get to October 1.
Forty-five minutes of that period was spent securing an official Virginia marriage license. You will be required to supply several proof-of-identity documents, including a birth certificate and driver's license. The DMV will check to see if your last names match on the documents. If the name on your identity documents do not match, you will need to bring as many documents as needed to show how your name changed. Did you change your last name when you were married? If so, you must a marriage certificate. But not just any marriage certificate like ours, which was signed by a minister several decades ago. No, they want a Virginia government-issued license. The DMV can print one while you are present, but expect to spend $14 and an additional 45 minute wait.
Better yet, get an official copy of your marriage certificate by visiting http://www.vdh.virginia.gov/vital-records/ before you visit DMV. It could take up to three weeks to receive one through the mail. Turnaround time is just 2-5 days if you pay a $30+ service fee. You can also get a certified copy of your birth certificate from the same site. A W-2 earnings statement with complete social security number can substitute for a Social Security card. If you have a passport, bring it! DMV has several mobile offices that move around. Check them out at https://www.dmv.virginia.gov/general/#mobileoperations.asp.
Annual Assessment (Dues)
Good News! 100% of Hickory Farms Homeowners have paid 2020 Annual Assessments!! For the third year in a row, we have had 100% payment compliance--and this year, the soonest ever! Including over 10% paying by credit card into our brand new PayPal account, for the first time ever! Bravo and thank you, everybody!
Sidewalk, Gutters, and Street Maintenance
If you see a broken sidewalk or curb or any problem with the streets, contact VDOT at 800-367-ROAD (7623) or visit http://www.virginiadot.org/travel/citizen.asp VDOT will add the item to its database and, if there are enough problems in our community that have been reported and VDOT has the money, they will fix the problem. They have been quick to respond in recent years.
New Bluebird Boxes, Baffles & Poles in 2020!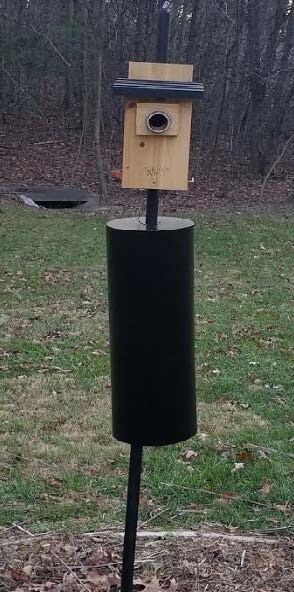 Our bluebird trail has been around 20+ years and many neighbors enjoy the updates throughout the year on migration, hatchling counts & bird counts from Bob and Judy Cosgriff in the newsletter. Last year we noticed the bird houses, which Girl Scout Troop 2046 made 8 years ago, were showing major deterioration and needed to be replaced. Bob and Judy have done a fabulous job in extending the life of the Girl Scout boxes with monthly maintenance and cleaning. Typically, bird houses only last 5 years.
On January 1 st , 2020 the Commons Area budget allowed for us to replace all 10 bird houses, (9 Nature's Way CWH4 boxes and 1 slot box), as well as, 6 racoon/squirrel baffles & 3 new poles. The existing poles and baffles in good condition, received a fresh coat of matte black paint for a more polished and cohesive feel in our commons area. All 10 birdhouses will be set up by February 15 th , just in time for migration season. Migration season typically starts mid – late March in our area, when birds begin to search for nesting sites and establishing their territories for their breeding season. If you have time….take a stroll in the commons area to take a look at our new bluebird boxes.
Vehicle Registration Services Available at Fairfax City Hall
Limited DMV services are available 8:30-4:30 weekdays at Fairfax City Hall on Armstrong Street. Services include license plates, handicapped permits, and title and registration transactions. This office does not issue driver's licenses or identification cards. You can often get your business done in less than 20 minutes!
Interested in Joining a Board Meeting?
Board Meetings are normally held at 7:30 at 10110 Round Top Ct. Contact a Board member for more information. Please email President@HickoryFarms.org if you plan to attend so he may fit you into the agenda.
New Signage Added to Rabbit Run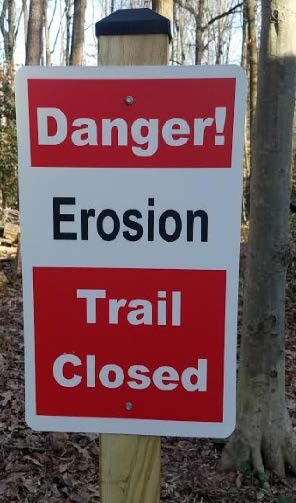 As communicated in prior newsletters, the bridges in
Rabbit Run have been removed, due to the growing erosion problem. HFCA's attorney recommended that signs be added to our path that read "Danger! Erosion. Trail Closed". These signs notify residents and non residents that the path over the creek is no longer safe. Our hope is that this signage will be temporary, as we begin to negotiate repairs with Fairfax County officials
For those interested in participating in the remediation planning of Rabbit Run, please contact the board at hfca@hickoryfarms.org.
Student Yellow Pages
If you wish to offer services such as shoveling snow, raking leaves, lawn mowing, babysitting, general home maintenance, tutoring, etc., email kirk_randall@hotmail.com
Bridgette Buchanan (15)
703-307-7323
Babysitting and dog sitting
Britney Mulliner (17)
571-474-7277
Babysitting and dog sitting
Cody Dempster (16)
703-776-0101
Yard work, snow shoveling, housework
Dominic Cannata (17)
703-568-9896
Lawn mowing, shovel snow, cleaning, mulching
Dylan Mehrman (16)
478-230-5066
Lawn mowing
Erika Maaseide (16)
703-659-5321
Babysitting; experienced with Special Needs
children
Kent Codding (17)
703-317-7319
Shovel snow
Paul Cannata (18)
786-445-5318
Lawn mowing, shovel snow, cleaning, mulching
Xavier Gilmer (15)
703-862-2192
Shovel snow; lawn mowing
Neighborhood Watch Schedule
Neighborhood Watch encourages total community involvement in discouraging preventable crime by organizing and providing technical assistance through awareness meetings that help neighbors get to know one another. Members learn to secure their property, look out for one another, and recognize and report suspicious activity. Neighborhood Watch enhances and fosters communications between the community and the police department through the Crime Prevention Office. The following is the volunteer schedule for the upcoming weeks. If you are interested in joining, please contact Debbi Buchanan.
| | | | |
| --- | --- | --- | --- |
| Fri | Jan 10 | Ron Arnold | Charles Walter |
| Sat | Jan 11 | Dave Dempster | Dawn Dempster |
| Fri | Jan 17 | Bruce Bernhardt | Nancy Bernhardt |
| Sat | Jan 18 | Jim Marshall | Carol Marshall |
| Fri | Jan 24 | Kirk Randall |   |
| Sat | Jan 25 | Jim Bever | Barbara Bever |
| Fri | Jan 31 | Susan Mulliner | Brenton Mulliner |
| Sat | Feb 1 | David Froberg | Beverly Froberg |
| Fri | Feb 7 | Debbi Buchanan | Michelle Bush |
| Sat | Feb 8 | Mark Jean-Pierre |   |
| Fri | Feb 14 | John Kitzmiller |   |
| Sat | Feb 15 | Rick Loranger | Judy Loranger |
| Fri | Feb 21 | Harry Herchert | Ginny Herchert |
| Sat | Feb 22 | Jason Zhao | Laura Feng |
| Fri | Feb 28 | Kirk Randall |   |
| Sat | Feb 29 | Lei Zhu | Maggie Zhu |
Join Our Listserv
There's no better way to stay in touch than through our Hickory Farms email listserv. Visit hickoryfarms.org and click "Hickory Farms Listserv" on left and follow the instructions.
The NVSWCD's Annual Native Seedling Sale & Rain Barrel
The Northern Virginia Soil and Water Division (NVSWCD) has two packages for this years annual native seedling sale, they are the Super Shrubs & Tiny Trees and Space Savers! Both seedling packages this year feature 8 shrub/small tree seedlings for $15, which is a fabulous price for how quickly these seedlings grow. The seedling sale will open up for all orders on February 4th and close on April 10th. If you decided to order and once your payment is processed, you can pick up your order at Sleepy Hollow Bath and Racquet Club, 3516 Sleepy Hollow Road, Falls Church VA 22044 on Friday, April 17, 9:00 a.m.-4:00 p.m., or Saturday, April 18, 9:00 a.m.-noon. Orders that are not picked up during this timeframe will be donated to a reforestation project in Fairfax County.
The NVSWCD is also offering rain barrel making classes or you can purchase pre-made rain barrels as well. To find out more information on the seedling sale and rain barrels, please visit: https://www.fairfaxcounty.gov/soil-water-conservation/native-seedling-sale