March 2020 Hickory Farms Newsletter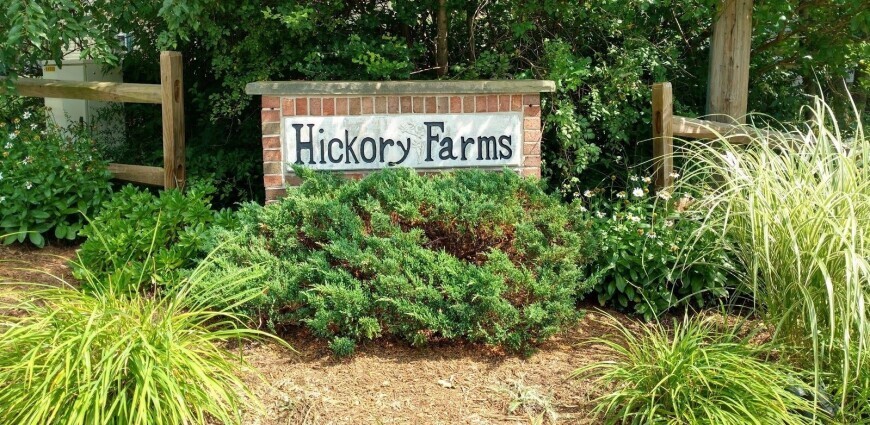 - Editor, Bill Berg (Farm House Ln)
Everyone Counts! Census 2020
The U.S. Census takes a snapshot of America by counting every person in every household in the United States every decade. In 2020, the U.S. Census is going paperless: people are asked to fill out their forms online. Check your mailbox in mid-March for a postcard from the U.S. Census in mid-March with the web address of the secure U.S. Census website and your individual code. Fill out your census form on your smartphone, tablet, or computer. The website, and your response, are secure, and all information provided in the U.S. Census is private.
NO COMPUTER? No problem: the City of Fairfax Regional Library — and all Fairfax County Public Library branches — provide free computer use with your (free) library card.
PREFER PAPER? Call the phone number on the postcard to receive a paper form, then mail it back promptly. Census Day is April 1 — but don't wait. Fill out your census form as soon as you receive your postcard. Households that don't respond will receive reminders, then in mid-April will receive printed reminders. An official Census Taker will visit each household that has not responded by late spring. U.S. Census results are crucial to properly allocate state and federal resources and funding. Census results are used to distribute seats in the U.S. House of Representatives, for example, and are used to determine how to provide our city with state and federal funds, and a myriad of other important and crucial resources. If you don't respond, you don't count — and that costs everyone in our community. Information: 301.763.INFO, 1.800.923.8282, ask.census.gov, census.gov.
Animal Adoption, March 21
Find a new animal friend with the help of the City of Fairfax Animal Control and Animal Shelter. The office holds animal adoption events on the third Saturday of the month at Pet Supplies Plus, 11054 Lee Hwy. from 11 am-2 pm. Can't wait? Don't wait: visit the city website for information about animals currently available. On the home page, click How Do I, and choose "Adopt a Pet."
Parking Your Boat or Trailer in Your Driveway - For Short Term Only
Article VII, Number 11 of the Hickory Farms Covenants (our "constitution") states: "No boats, trailers, tents or any structure of a portable nature, or portable vehicle other than automobiles shall stay parked forward of any dwelling for a period exceeding seven days."
2019 HFCA Income and Expenses
Income
Expenses
Annual Assessments
$39,600.00
Common Areas - Maintenance
$20,389.36
Newsletter Advertising
$2,088.70
Common Areas - Improvement
$6,012.32
Late Fees
$950.00
Common Areas - Remediation
$7,414.32
Legal Fees/Leins/Refunds
$50.00
Printing
$2,499.27
Seller Disclosure Packet Fees
$0.00
Insurance - Management Liability
$1,818.00
 
 
Insurance - Commercial Crime
$250.00
 
 
Insurance - General Liability
$416.00
 
 
Social Activities
$1,649.90
 
 
Administrative Fees
$802.35
 
 
Taxes & Fees
$325.00
 
 
Tax Preparation
$305.00
 
 
Postage
$227.90
 
 
Legal Fees
$200.00
 
 
Bank Fees
$71.90
 
 
Neighborhood Watch
$0.00
Total Income
$42,688.70
Total Expenses
$42,381.32
Net Income or (Loss)
$307.38
 
Under the Hickory Farms Bylaws and the Virginia Property Owners Association Act, the Board of Directors sets an annual assessment. The 2020 Assessment of $250 was affirmed by the Members at the October 2019 Annual Meeting. The 12/31/2019 balance of the Association's Reserve Account was $25,184.
Bunco is So Much Fun!
No experience necessary! We meet the third Thursday of every month at a rotating schedule of neighbor's homes. Would you like to be added to our email list? Please contact Debbi Buchanan at simplydebbi1@gmail.com or at (703) 307-7323
New Assistant Treasurer
Welcome Ken Sorg as our new Assistant Treasurer! The HFCA Board is pleased to announce its approval of Ken for volunteering as our new Assistant Treasurer, an Officer of the Board! Ken may be reached via treasurer@hickoryfarms.org.
Wake-Up Call for Hickory Farms
So, what can we do within Hickory Farms to protect ourselves from roving bands of thieves who strike at late night and early morning hours? Here are some easy changes we all can and should make:
Keep all parked vehicles locked! An unlocked car is an open invitation.
Do not store expensive electronic devices or other items in your vehicles.
Add motion activated flood lights around carports.
Add motion activated camera/recorders to cover critical portions of your property.
Notice unfamiliar cars in the neighborhood at off hours and write down license plate numbers.
Join Neighborhood Watch! We need to dramatically increase the number of residents participating on Friday and Saturday evenings.
Neighborhood Watch
Neighborhood Watch encourages total community involvement in discouraging preventable crime by organizing and providing technical assistance through awareness meetings that help neighbors get to know one another. Members learn to secure their property, look out for one another, and recognize and report suspicious activity. Neighborhood Watch enhances and fosters communications between the community and the police department through the Crime Prevention Office. The following is the volunteer schedule for the upcoming weeks:
| | | | |
| --- | --- | --- | --- |
| Fri | Mar 6 | Brian Roethlisberger | Rob Mikula |
| Sat | Mar 7 | Tony Dong | Wendy Chen |
| Fri | Mar 13 | David Tropiano | Sarah Tropiano |
| Sat | Mar 14 | Tom Barrett | Pam Barrett |
| Fri | Mar 20 | David Cain |   |
| Sat | Mar 21 | Jim Marshall | Carol Marshall |
| Fri | Mar 27 | Lt Trieu | Will Lunsford |
| Sat | Mar 28 | Pete Scala | Rose Scala |
The Birds of Hickory Farms
By Bob Cosgriff
Every New Year's Day, we start a five-month daily yard count. It is always interesting to see what the first bird of the year will turn out to be. We have never had a repeat "first bird" in the seven previous years we've been doing this, and 2020 was no different, with a striking male Northern Cardinal taking the honors. We also record how many birds we see on the first day and how many species per day we average each month and overall. On January 1, we saw 20 different species. For the month of January, we averaged 17 species per day, with a high day of 22 and a low of 13, and a total of 28 different species seen in or flying over our yard. As of February 21, we have added five additional species. Our February daily average was 18 and high/low numbers were 22/15. These numbers are pretty much in line with our historic averages from 2013 through 2019.
Highlights through the third week of February include Eastern Bluebird, Eastern Towhee, American Goldfinch, Ruby-crowned Kinglet, Yellow-rumped Warbler, Cooper's Hawk, Redshouldered Hawk, and all six of the woodpeckers that can be seen here: Pileated, Northern Flicker, Red-bellied, Hairy, Downy, and Yellow-bellied Sapsucker. In the "flying over" category, we had Bald Eagle, Canada Goose, Red-shouldered Hawk, Turkey Vulture, and Black Vulture. Let's face it—except for Red-shouldered Hawk, these birds are not likely to land in our yard, but the fact that they are seen above it shows that they can adjust to the suburban environment, especially one as natural as we enjoy here in Hickory Farms. So, we count them. As for the most common birds we see, the list of the top 10 "usual suspects" includes (in alphabetical order): Carolina Wren, Downy Woodpecker, European Starling, House Finch, House ("English") Sparrow, Red-bellied Woodpecker, Slate-colored Junco, Song Sparrow, Tufted Titmouse, and White-throated Sparrow.
You might be asking, "Why do we do this?" Well, for one thing, it's fun. But it is also "citizen science" in the sense of collecting data over time. This is something anyone can do if your yard is "bird-friendly." Doing a backyard (or neighborhood) count might even be a good science project for your student. My guess is that most Hickory Farm residents could see most of these birds in their yard on any given winter's day. To attract more species, including the "highlight" birds, the key is to make your yard "bird-friendly." This is a simple task. You need only three things: cover (trees/shrubs/brush- or wood pile), water, and food (any or all of black-oil sunflower seed, safflower, white millet, peanut splits, suet, dried mealworms). Native trees and plants that bear nuts, fruits, or seeds also constitute a very important food source, as well as providing cover and possible nesting sites. The more variety of food you offer, the more species of birds you will attract. If I had to pick just one food to start with, it would be black-oil sunflower seed. A word of caution: I don't recommend buying bags of mixed seed. They are generally filled with less desirable food items like red millet, milo, split corn, etc. Stick with bags of a single product and use the appropriate feeder for each. To deter squirrels, place your feeders at least 10' away from any tree or structure and install a squirrel baffle. If you want to feed off a deck, you can buy seed and suet treated with red pepper; birds don't taste the heat, but squirrels do and they will learn very quickly that this is not a food source for them. As you read in last month's newsletter, thanks to the HOA Board and the efforts of Melissa and Jarrett Stark, Hickory Farms now has 10 beautiful new bird houses to replace deteriorating boxes donated eight years ago by Girl Scout Troop 2046. We are anxious to record the first bluebird nesting attempt in these new boxes and even more hopeful that they will attract Tree Swallows once again to our neighborhood. The average "first egg" day for Virginia is 6 April (also our date last year). We have beaten that date a couple of times, including 2017 (3/27).
That's it for now. We will begin to see some new backyard birds in March, and more in April when the spring migration begins in earnest, with May being the peak month. Stay tuned for more news about the birds of Hickory Farms. In the meantime, look out your windows and see what birds you can see in your backyard!
Interested in Joining a Board Meeting?
Board Meetings are normally held the second Tuesday of each month at 7:30 at 10110 Round Top Ct. Please email president@hickoryfarms.org if you plan to attend so he may fit you into the agenda.
Peddlers and Door-To-Door Solicitors - Be Wary
With the warm weather approaching, door-to-door solicitors and peddlers start to make their rounds through the neighborhood.
First of all, remember that if you sign a contract for services at your home, Virginia law gives you a three day "cooling off" period during which you may cancel the contract. Fairfax County requires that peddlers and solicitors receive a photo ID license before they solicit door-to-door. This includes firewood sellers, tree workers, home remodeling outfits, magazine subscriptions, etc. They may solicit only between 9 AM and 8 PM, and may not solicit at a residence which posts a "No Peddlers or Solicitors" sign. Peddlers or solicitors must show their license upon request and must leave immediately if you ask them. "My boss has it" or "It's in the car" are not valid excuses for not having a license. Peddler and Solicitor Licenses are issued by Fairfax County. Persons distributing advertising flyers – but are not approaching residents – are not required to have a license.
If you encounter an unlicensed peddler or solicitor, you may report them to the Police non-emergency number at 703-691-2131. Solicitors, especially magazine sellers, frequently employ out-of-town school-age children to solicit door-to-door. Don't confuse them with your local high school student who is collecting a few dollars for a band fund raiser, for example.
Be especially careful of persons driving vehicles with out-of-state license tags, including "summer transient travelers" from Florida and South Carolina, who may scam you on repair work or walk right into your house while you're doing yard work, and take whatever they can get their hands on. So, keep your doors locked while working in the back yard.
If you feel threatened by or suspicious of any peddler, solicitor, or flyer distribution person, or it just doesn't feel right, call 911 and try to get a vehicle license number to report
Quiet Hours - The Fairfax County Noise Ordinance
The Fairfax County noise ordinance generally implements quiet hours between 9PM and 7AM. However, trash and recycling may be picked up as early as 6AM. Construction or demolition equipment also may not be used outside before 9AM on Sundays and federal holidays. Trucks may not be loaded or unloaded outside within 100 yards of a home between 9PM and 6AM. If you are being disturbed, please first speak with your neighbor. If that doesn't work, call the Fairfax Police non-emergency number at 702-691-2131
Spring, Scooters, and Safety
As winter gives way to spring, more people will be out and about — walking, cycling, and riding e-scooters and other mobility options. As always, stay alert for your fellow travelers, rain or shine — and be courteous. Motorists, remember to be especially careful to look both ways over your shoulders while making the time to slowly back out of your driveway. No matter your mode of transportation, avoid distractions, and keep your eyes on the road (and sidewalk). Be visible, pay attention, and obey all traffic laws. Got questions about shared e-scooters? Visit fairfaxva.gov/dockless.
Join Our Listserv
There's no better way to stay in touch than through our Hickory Farms email listserv. For more information click "Email Listserv" under "For Residents" in the Hickory Farms website main menu.
Landscaping
This mowing season, Hickory Farms Community Association (HFCA) will be partnering with Premium Lawn & Landscape to assist us in maintaining and cleaning up our 20+ acres of Common Areas.
Hickory Farms residents are responsible for trimming of their own property line that borders the Common Areas, which includes the residence's fences, gates, trees, plants, hardscapes and built structures.
Premium Lawn & Landscaping's scope of work for 2020 will include the following:
24+ cuts per season (front entrances, N. Path, Rabbit Run, Upper and Lower Commons)
New! Perennial & shrub trimming, weed removal and mulch application to both community entrances. Please note: this service is for the location that our entrance signs reside on.
New! (6) months of weed removal from the entrances mulched beds. Please note: this service is for the location that our entrance signs reside on.
Multiple fall clean-ups. This will include mulching and blowing leaves on all Common Areas property in November, and if needed, December too.
All common area turf and entrances will be mowed every 7 – 10 days dependent on weather conditions.
Height of 3-5" or as seasonal conditions dictate.
All common area sidewalks and curbs will be edged using a machine bladed edger every two weeks.
Contractor will remove minor debris, such as trash and tree branches, from all turf areas prior to mowing. Small sticks will be "green mulched" (broken into small pcs.) and placed in the tree groves. Large limbs will be placed in marked disposable areas and the Common Area Coordinator will dispose of them.
Blowing of resultant debris/clippings will occur from roadways, sidewalks and paths (Northern Path and Lower Commons) at the time of each mowing visit.
On path areas (N. Path and Lower Commons), a cutting on both sides of the walkway will be maintained.
All Common Area mulched beds and tree rings (groves and islands) will be string edged at the time of each visit.
Trimming around miscellaneous obstacles within the common areas turf will occur at the time of each mowing visit. Miscellaneous obstacles within the common areas turf are the following, but not limited to: benches, signs, bird feeders, cable boxes and flower gardens. Trimming areas shall exclude residence property lines.
In addition to our lawn services, we have partnered again with TruGreen for (3) broadleaf weed, stilt grass control & fertilization applications to the Upper and Lower Commons, as well as, (3) target spray applications for the weeds on the islands for the 2020 season.
All communication for the Common Areas will be sent via the Listserv and NextDoor. If you are not connected to one of these communication methods, please join!
Student Yellow Pages
If you wish to offer services such as shoveling snow, raking leaves, lawn mowing, babysitting, general home maintenance, tutoring, etc., email kirk_randall@hotmail.com
| | | |
| --- | --- | --- |
| Bridgette Buchanan (16) | 703-307-7323 | Babysitting and dog sitting |
| Britney Mulliner (17) | 571-474-7277 | Babysitting and dog sitting |
| Cody Dempster (17) | 703-776-0101 | Yard work, snow shoveling, housework |
| Dominic Cannata (17) | 703-568-9896 | Lawn mowing, shovel snow, cleaning, mulching |
| Dylan Mehrman (17) | 478-230-5066 | Lawn mowing |
| Erika Maaseide (17) | 703-659-5321 | Babysitting; Special Needs experienced |
| Kent Codding (18) | 703-317-7319 | Shovel snow, yard work, leaf raking |
| Paul Cannata (18) | 786-445-5318 | Lawn mowing, shovel snow, cleaning, mulching |
| Xavier Gilmer (15) | 703-862-2192 | Shovel snow; lawn mowing |
| Jaden Singh (17) | 703-278-8800 | Math tutoring, snow shoveling |
| George Codding (14) | 703-223-4101 | Snow shovel, yard work, leaf raking |
HFCA Secretary Position
The HFCA Board welcomes a volunteer to join us as Secretary! The main functions are to record the official Minutes of the Monthly Board Meeting and to serve as a Member of the Board. To inquire or volunteer, please email president@hickoryfarms.org