January 2019 Hickory Farms Newsletter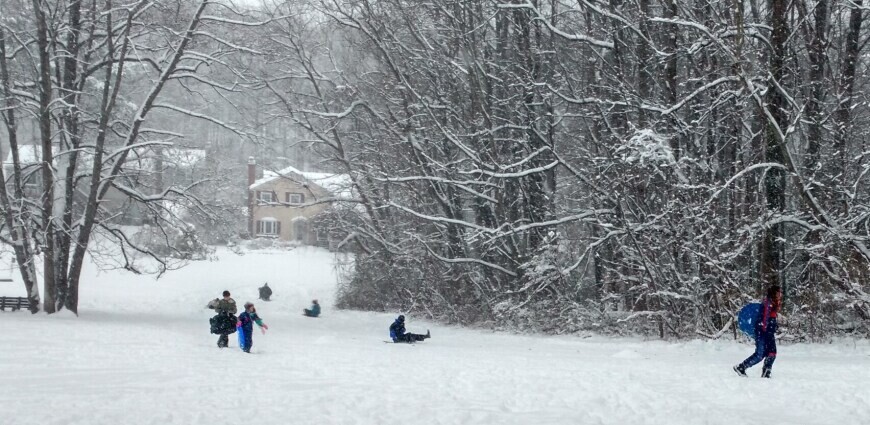 The Lower Common Sledding Hill - Editor, Chuck Stewart (Still Meadow Rd)
Hickory Farms Calendar
Feb 12 - Board of Directors Meeting
Thank you to all those who paid your HFCA annual assessment!
To those few who have not yet paid, please pay the amended amount of $250 (includes $50 late fee) by January 31, 2019 or HFCA will turn over delinquent accounts to the association's attorneys for collection.
Lawyers will add another $200 to start and keep adding if they take it to court. (Renters/Tenants, please alert your Landlord, if you think they may be unaware of this.)
Where is the Snow Plow?
http://novasnowplowing.virginia.gov/
The locations of most VDOT trucks are updated every two minutes using satellite technology, but smaller contractor trucks may not be so tracked. Neighborhoods are color
coded depending on their stage of completion. Click the Quick Tips, Status, Legend, Display, and Mobilization tabs for helpful information about the display. In the "Find Address" box, enter your full address, such as "1234 Farm House Lane, Fairfax, VA" A blue street are means that plowing has not yet started, yellow means plowing is in progress, and green means plowing is completed.
Spring Cleaning?
Hazardous Waste Disposal
Free Disposal of Household Hazardous Waste is Available to Fairfax County Residents only. Fairfax County's website defines hazardous wastes, and the times and locations where the county will except same. https://www.fairfaxcounty.gov/publicworks/recycling-trash/household-hazardous-waste
Secure Shredding
The Fairfax County Solid Waste Management Program will be sponsoring one secure document shredding event in each supervisory district per calendar year. These events are only open to Fairfax County residents along with residents of the Towns of Vienna, Herndon and Clifton and the Cities of Fairfax and Falls Church. Documents from businesses will not be accepted. For more information:
https://www.fairfaxcounty.gov/publicworks/recycling-trash/document-shredding
Wanna try something new this January?
Our neighborhood bunco group has room for new members! No experience needed! We meet the third
Thursday of most months at different homes. This month it's at Debbi Buchanan's home. Join us for a couple of hours of fun, dice, snacks, wine (sometimes margaritas—in May!). If you would like more information, please contact Debbi at 703-307-7323. We play from 7:30 - 9:30pm. Also, bring $5 for the prize pot!
Holiday Decorating Competition Winners!
Congratulations! Hickory Farms Residents voted for the "Most Festive", "Most Colorful" and "Most Classic" decorated homes of the 2018 holiday season. Thanks for casting your vote on surveymonkey.com.

Most Festive (aka Most Holiday Spirit)
The Mehrman Family at 9998 Cotton Farm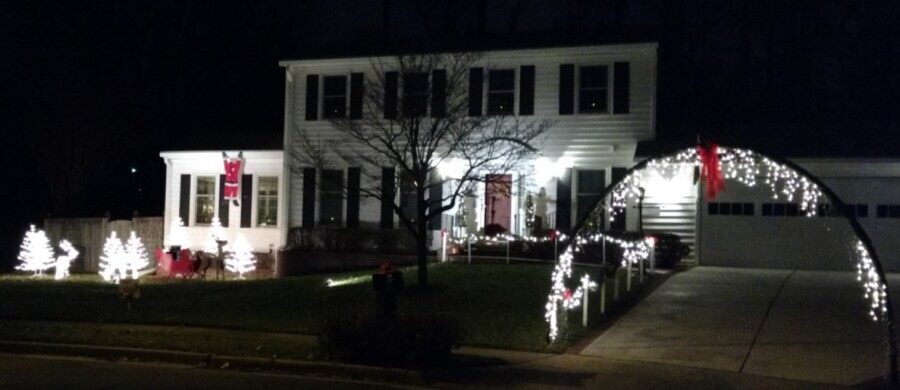 Most Classic
The Ambrogi Family at 10034 Wheatfield Court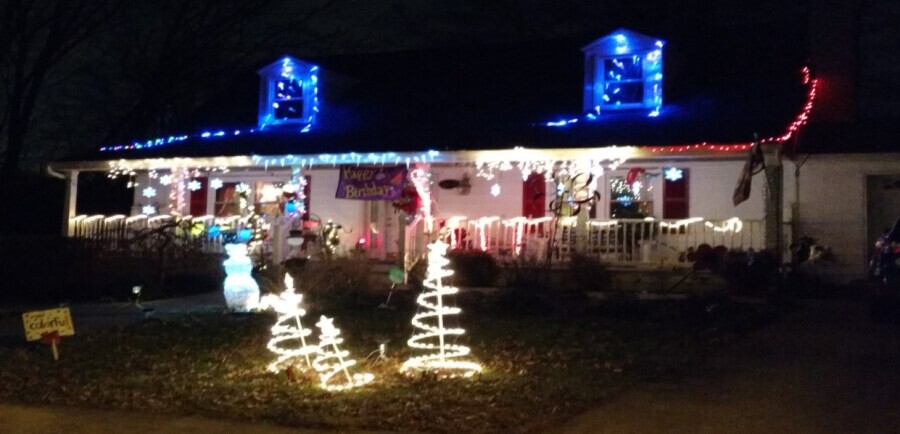 Most Colorful
The Buchanan Family at 10110 Round Top
Thank you Social Committee!
Student services including snow shoveling for the next storm
Here is the latest version of the HF Newsletter Student Yellow Pages. If you wish to offer services such as snow removal, raking leaves, lawn mowing, babysitting, general home maintenance, etc., email kirk_randall@hotmail.com
Bridgette Buchanan (15)
703-307-7323
Babysitting and dog sitting
Britney Mulliner (17)
571-474-7277
Babysitting (6 years experience including newborns)
dog sitting.
Cody Dempster (16)
(Home) 703-503-0561
(Text) 703-776-0101
Yard work (raking leaves, lawn mowing, etc.) snow
shoveling, housework
Dominic Cannata (17)
703-568-9896
Lawn mowing, shoveling, cleaning, mulching, any odd
job.
Dylan Mehrman (16)
478-230-5066
Lawn mowing
Erika Maaseide (16)
703 659-5321
Babysitting; has experience with Special Needs children
George Codding (13)
703-223-4101
Shovel snow
Kent Codding (17)
703-317-7319
Shovel snow
Paul Cannata (18)
786-445-5318
Lawn mowing, shoveling, cleaning, mulching, any odd
job.
Attention all Golfers!
An alarming number of golf balls have shown up in the yards of Cotton Farm and Farm House homes that back up to the Lower Common Area. Some of them have landed dangerously close to homes, children playing in back yards, and pedestrians using the asphalt path. We do not currently have a prohibition against hitting balls in the Upper and Lower Common Areas, but we may resort to that if golfing practices don't change. We ask that all golfers take care that their balls land far away from homes (use no woods clubs, please!). Clearly, golfers should retrieve all hit balls after their session; more than 75 abandoned balls were retrieved in 2018 alone. Finally, our Common Areas are to be used by residents and their guests only. If you encounter a nonresident golfing on our Common Areas who is not accompanied by a Hickory Farms resident, please gently direct them to the Four Seasons Golf Center located just two miles west on Braddock Road.
Deed and Declaration Change Final Countdown Underway!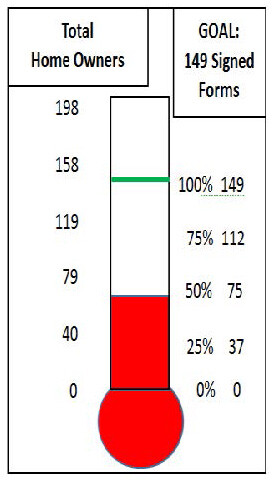 For the past year and a half, a proposal to amend our Deed and Declaration founding document have been circulating through our neighborhood. A change to the Deed and Declaration document requires 149 of our 198 property owners (75%), in writing to make the change. To date, 86 property owners have approved the changes by filling out the Deed and Declaration Amendment form. Also, 7 property owners have indicated that they disapprove of the changes. Thanks to those 93 property owners for responding! 105 property owners have not provided a position – for or against. We need to hear from the remaining 105 property owners! And we need to hear from you NOW!
The need for the amendments is driven by Virginia court decisions that now require an express authority in a Deed and Declaration document in order to assess charges for violations of the Homeowner Association Deed and Declaration Restrictive Covenants, Bylaws and Rules and Regulations. Our Deed and Declaration document, written in the mid-1970's, does not have that express language. From our establishment in 1975 up until the court decisions, Hickory Farms established charges for non-compliance. The charges are defined in our Rules and Regulations document. As your volunteer Board of Directors, we previously had three options to deal with noncompliant property owners. First option, interact with a property owner directly to resolve the issue. On a positive note, this option works 98 to 99% of the time! Second option, after non-response from property owner, initiate charges for noncompliance. Third option, seek legal action for non-compliance. The first option involved volunteer actions and communications with individual property owners. The second option involved notice and then application of charges to the non-compliant property owner. The third option involves legal fees that the Association would need to extend until the legal case was decided, meaning our overall expenses would increase and put upward pressure on the Annual Assessment each Hickory Farms property owner pays (currently $200 per year). Without the Deed and Declaration amendments, we do not have option number 2. To enforce our Restrictive Covenants, Bylaws and Rules and Regulations, we would need to proceed directly from Option 1 interaction to Option 3 legal action, increase our legal expenses, which will result in higher Annual Assessment fees. The Board would like to avoid increasing the Annual Assessment fee and believes the Deed and Declaration amendments will assist in keeping the Annual Assessment as low as possible.
If you have already sent in your approval (or disapproval) thank you! If not, attached to this newsletter is the Deed and Declaration Amendment Form. Please fill it out completely at the bottom and return it to: HFCA, P.O. Box 2239, Fairfax, Virginia 22031. If you have any questions or if do not approve of the Deed and Declaration Amendments, please call or text me at 703-989-0751 or send an email to hfca@hickoryfarms.org noting your disapproval. We need to count every homeowner!
Please do not let this go another month for you to respond. In order to keep Hickory Farms as a great place to live, we need your participation and response!
Thanks!
Bruce Bernhardt
HFCA Director and Vice President
703-989-0751
Dear Hickory Farms Homeowners who have not yet paid Annual Assessment for 2019
Your $200 Hickory Farms Annual Assessment for 2019 was due January 1. Payments neither postmarked nor in the physical possession of the Treasurer by January 7 were late and you will be charged an additional $50. Please send your check or money order (not cash!) for $250 payable to "HFCA" to: HFCA, P.O. Box 2239, Fairfax VA 22031. The Assessment should be paid by the person who owns the home on January 1. Payments received that do not include the additional $50 late fee (total payment is $250) will be returned to you for non-payment. On February 1, delinquent accounts will be turned over to the Association's attorneys for collection. At that point, the amount owed by the delinquent homeowner will be $250 plus attorney fees (another $200+) and could include significant court costs if HFCA files a lawsuit. These procedures are in accord with the Hickory Farms Community Association Bylaws, which have no provision for waiver.
Do not mail or hand deliver your payment to the Treasurer's house.
Write the house number and street name of your property on your check.
Moved? New homeowner? Email owner's name, address, and telephone number to Kirk_Randall@Hotmail.com, who maintains Hickory Farms records.
RENTERS/TENANTS: PLEASE ALERT YOUR LANDLORD IF YOU THINK THEY ARE UNAWARE.
Questions? Email Treasurer@Hickoryfarms.org
Neighborhood Watch Schedule
| Day | Date | Person 1 | Person 2 |
| --- | --- | --- | --- |
| Fri | Jan 18 | Matt Halligan | Christine Hallligan |
| Sat | Jan 19 | Harry Herchert | Ginny Herchert |
| Fri | Jan 25 | Jason Zhao | Laura Feng |
| Sat | Jan 26 | Kirk Randall | Albert Chong |
| Fri | Feb 1 | David Cain | |
| Sat | Feb 2 | Daniel Turner | Angela Turner |
| Fri | Feb 8 | Brian Roethlisberger | Rob Mikula |
| Sat | Feb 9 | Tony Dong | Wendy Chen |
| Fri | Feb 15 | David Tropiano | Sarah Tropiano |
| Sat | Feb 16 | Tom Barrett | Pam Barrett |
| Fri | Feb 22 | John Coyne | Linda Coyne |
| Sat | Feb 23 | Jim Marshall | Carol Marshall |
| Fri | Mar 1 | Pete Scala | Rose Scala |
| Sat | Mar 2 | George Ro | Bob Montgom |
| Fri | Mar 8 | Jim Bever | Barbara Bever |
| Sat | Mar 9 | Bruce Bernhardt | Nancy Berhardt |
| Fri | Mar 15 | John Kitzmiller | |
| Sat | Mar 16 | Ron Arnold | Charles Walters |
| Fri | Mar 22 | Dave Dempster | Dawn Dempster |
| Sat | Mar 23 | Brenton Mulliner | Susan Mulliner |
| Fri | Mar 29 | David Froberg | Beverly Froberg |
| Sat | Mar 30 | Will Lunsford | Mark Jean-Pierre |
We are working to enlist 50 residents/teams on the roster! Contact Debbi Buchanan at 703.307.7323 or simplydebbi1@gmail.com for information or to be added to the roster.
Personal Safety for Women Workshop, From Certified Crime Prevention Specialist Michael Stewart, West Springfield District
The Fairfax County Police Department will be hosting a Personal Safety for Women Workshop on February 28th, 2019 - 6:00 pm -8:00 pm at 6140 Rolling Road, Springfield, VA 22152 The personal safety workshop is
designed to introduce women to a variety of self-protective options in a short, non-physical, discussion format. The basic workshop covers prevention strategies, as well as the pros and cons of various options for ending an attack. Discussion is designed to help people identify their risks and evaluate their strengths, as well as explore their options. For more information see Nextdoor.