May 2018 Hickory Farms Newsletter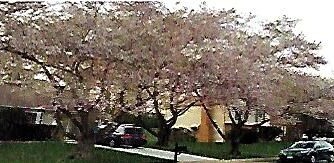 Spring Has Brought Out the Tree Blossoms - Editor, Chuck Stewart (Still Meadow Rd)
Hickory Farms Calendar for 2018
All activities are held in the upper Commons Field on these dates
May 5 - Neighborhood Fiesta
May 26 - Memorial Day Cornhole Tourney (Adults Only)
June 23 - School's Out! Summer Kickoff
July 14 - Dog Days of Summer Cornhole Tourney (Adults Only)
Sept 8 - Volunteer Appreciation Celebration
Oct 20 - Monster Mash Bash
Deed and Declaration Change Status Update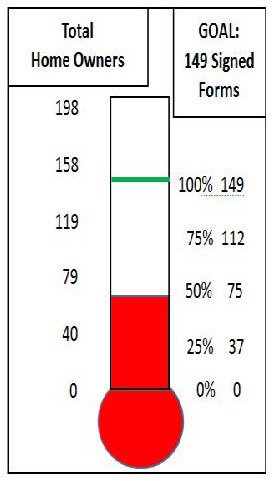 Spring has arrived and we've climbed to 62 signed forms! Thanks to those who have signed! For those who have not signed, it's a great time to sign and submit your Deed and Declaration Change form! With the change in weather, visits to non-responding homeowners will begin in May 2018! Also direct mailings will begin to non-resident lot owners. We are looking to complete this project before the next General Membership Meeting in October!
The Good News: 62 property owners (42.6% of 149 required) have signed and returned the Deed and Declaration change form.
The Not So Good News: 136 homeowners (68.7% of 198 total homeowners) have not signed and returned the form.
A copy of the Amendment form is included in this Newsletter. If your property is owned by one or more persons, please include all owner printed names, signatures and dates on the form. If your property is owned by a trust, please have the trustee sign the form and note their trustee status. In order for the change to be effective, we are required to obtain 149 out of our 198 (75%) lot own-ers to sign the form.
Background: At the Hickory Farms Community Association (HFCA) Annual Meeting in October 2017, the HFCA Board of Directors recommended and the general membership approved a change to our Declaration of Covenants, Conditions and Restrictions document. The change is nec-essary to update our Deed and Declaration document to align with recent Virginia court cases and Virginia Property Owners Association Act (VPOAA) recommended language.
If you have not signed and returned the form, please do so now! You can:
drop the form off at my home, 4301 Still Meadow Road
give me a call and I will come and pick it up!
you can mail the form back to the HFCA Mailbox at: HFCA, P.O. Box 2239, Fairfax, VA 22031.
If you have any questions about the change to the Deed and Declaration document, please call me at 703-989-0751 and leave a voice message. I will call you back. Please help us keep Hickory Farms a great place to live and invest in by signing and returning the Amendment Form!
Thanks!
Bruce Bernhardt
VP HFCA, Board Member and fellow homeowner!
Preparedness Awareness Weekend
Fairfax County is sponsoring a family friendly "Preparedness Awareness Weekend" on Saturday May 5, 2018 at the Gum Springs Community Center (8100 Fordson Rd. Alexandria, VA 22306) on May 5th, 10:00am - 2:00pm. Kids of all ages welcome.
The event will include:
Free Car Seat Check
Hands-on CPR 11 AM & 12 PM
Disaster meals
Family emergency planning
Assembling a disaster kit
Planning in case your caregiver is unavailable
More Information: https://www.fairfaxcounty.gov/emergencymanagement/fairfaxpaw
Little Free Library Coming to Hickory Farms Rabbit Run and Upper Commons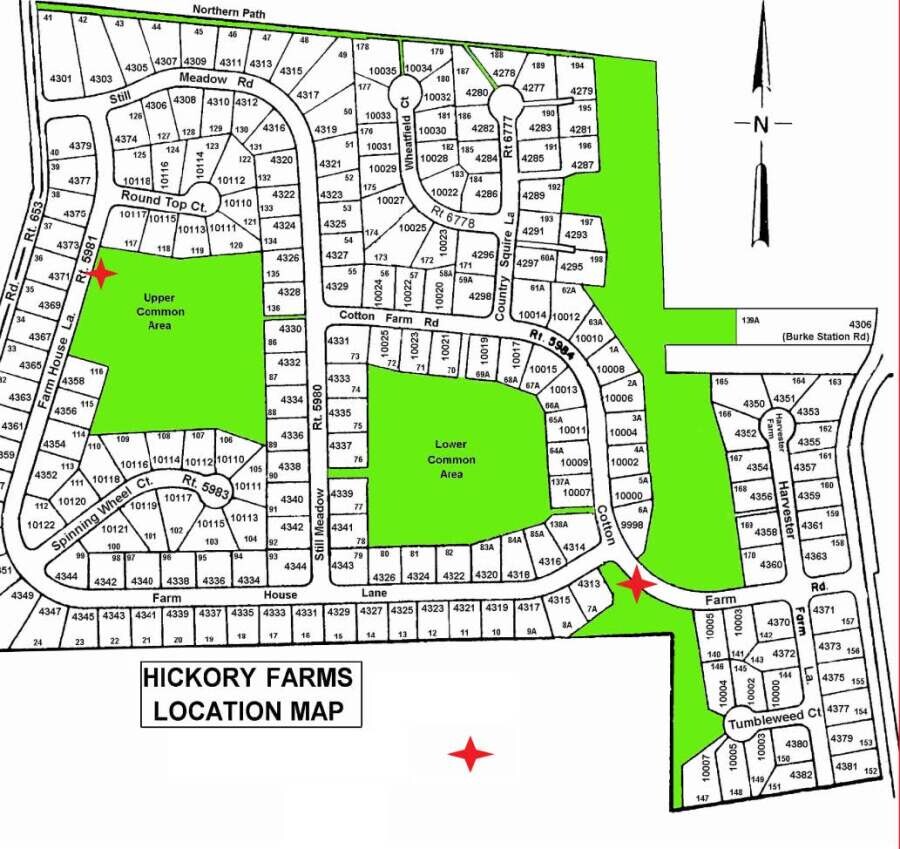 Life Scout and Hickory Farm resident, Patrick Doyal, has chosen Little Free Library as a part of his Eagle Scout service project. Little Free Library is a "take a book, return a book" free book exchange. These libraries will allow Hickory Farms residents the ability to share their favorite books with their community and receive tax deductible credit for their book donations.
The board has agreed to have two (2) of Patrick's Little
Free Libraries placed in our common areas. The first box will be located off of Farm House Ln. by the sidewalk of the Upper Commons. The second box will be located near the Cotton Farm Rd. and Farm House Lane intersection by the sidewalk in Rabbit Run. Look for these libraries in the Spring/Summer of 2018. Want to learn more about Little Free Library? Please visit: littlefreelibrary.org/faqs/.
Are You Planning to Replace Your Roof?
- Brian Roethlisberger (ACC Chairperson)
Several homeowners have recently replaced their roofs in the aftermath of the 70 MPH winds we experienced in February. This is to remind you that your roof replacement may require prior approval from the Architectural Control Committee. Generally, if you are replacing your roof with the same kind (color, shingle style – three tab or architectural/dimensional), no application is required. However, if you are changing the color of the shingles or changing the shingle style by, for example, replacing three tab shingles with architectural/dimensional shingles, you must obtain prior approval from the ACC before the project may begin. To learn more, please visit: https://hickoryfarms.org/archive/accApprovalProcess.php
Have You Seen Me Recently?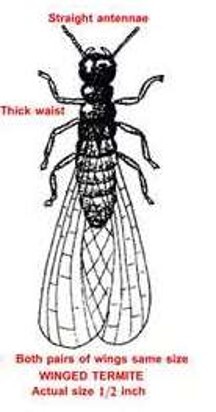 During April and May, you may see vast quantities of ½ inch termites swarming around your house, particularly near outside doors. The termite protection that may have been done during construction over 30 years ago is long gone and the termites are now ready to invade your home again. It would be unusual for homes our age to not have been invaded by terminates. Consult Washington Consumers Checkbook magazine (it's a nonprofit organization) – available at the library – to get the names of top rated pest control firms.
The Benefits of Neighborhood Watch
Some neighborhoods may be more susceptible to crime than others; however, all should consider establishing a Neighborhood Watch Program. No matter what type of neighborhood you live in condominium, garden apartment, townhome, or single family home, the benefits are obvious.
PREVENTION OF CRIME
Fairfax County crime statistics show Neighborhood Watch Programs aided the police department in reducing residential burglary by almost 60 percent from 1980 to 1993. This occurred even while the population increased by almost 250,000 people. In addition to reductions in residential burglary. Neighborhood Watch Programs have contributed to substantial declines in thefts of property, vandalism, fraud, sexual assaults and even traffic-related offenses. Watch Programs have even impacted upon crimes in nearby commercial areas, churches and schools.
The establishment of a Neighborhood Watch Program in a low-crime area is added assurance it will remain safe. Crime is rarely stationary and often moves from one neighborhood to another.
Source: Fairfax County Police Department; "An Introduction to Neighborhood Watch"
Students May List Their Services on Our Yellow Pages
Do you have a student who wants to make a bit of money babysitting, snow shoveling, landscaping (lawn mowing, raking leaves, spreading mulch, etc.), cleaning out the garage or carport, snow shoveling, etc.?
To be included in the Hickory Farms newsletter's "Student Yellow Pages," please email the following information to Kirk_Randall@hotmail.com : Student's name, age, telephone number, and a list the kinds of services the student is offering.
Volunteers Needed!
This winter has sure been an active one from a commons area standpoint. Since November, 7 trees have been badly damaged or have fallen in pedestrian traveled areas, as well as, 55 storage bins worth of branches have been picked up and removed from our common areas.
We did not have to pay out of our budget for an outside tree service to cut the 7 trees down. A gentleman generously volunteered his time and chainsaw skills to keep more money in our budget for other much needed expenses. A couple of children learned the importance of volunteering and picking up sticks to help keep the neighborhood beautiful during the winter months and the snow hill free of sticks, just in case the chance of flurries turned into snow.
Above are just 2 examples of how volunteers help make Hickory Farms a beautiful and safe place to live. We are very fortunate that we have neighbors that take the initiative to pick up sticks or litter on their own, volunteer late nights to neighborhood watch, host social activities that allow all neighbors to gather, deliver our newsletters (so we can save on postage), as well as, serve a position on the board or as an officer.
A big thank you to those volunteers who currently volunteer their time or have volunteered their time in the past! If you are able to carve out time to help the community, below are some current opportunities that we need volunteers:
Commercial Landscaping Services (CLS)
Starting in April 2018, Hickory Farms Community Association (HFCA) will be partnering with Commercial Landscaping Services (CLS) to assist us in maintaining and cleaning up our 20+ acres of commons area.
The scope of work that CLS will be covering is drastically different than our previous 10+ years landscaping company, Green Leaf Landscaping. For the past 10+ years, Green Leaf Landscaping provided general clean up twice a year (N. Path, Upper & Lower Commons), limited front entry mowing and Upper & Lower commons area mowing 15 times last year.
CLS's scope of work for 2018 will include the following:
26 cuts per season (front entrances, N. Path, Rabbit Run, Upper and Lower Commons) and one mow will be reserved for taking care of the end of season leaves.
All common area turf and entrances will be mowed at 7-10 day intervals and will be kept at a uniformed height of 3-5" or as seasonal conditions dictate.
All common area sidewalks and curbs will be edged using a machine bladed edger at the time of each visit.
Contractor will remove minor debris, such as trash and tree branches, from all turf areas prior to mowing. Large limbs will be placed in marked disposable areas and the Common Area Coordinator will dispose of them.
Blowing of resultant debris/clippings will occur from roadways, sidewalks and paths (Northern Path and Lower Commons) at the time of each mowing visit.
On path areas (N. Path and Lower Commons), a cutting on both sides of the walkway will be maintained. "Limbing up" encroaching trees, shrubs and the like will be cut back.
All Common Area mulched beds and tree rings (groves and islands) will be string edged at the time of each visit.
Trimming around miscellaneous obstacles within the common areas turf will occur at the time of each mowing visit. Miscellaneous obstacles within the common areas turf are the following, but not limited to: benches, signs, bird feeders, cable boxes and flower gardens. Trimming areas shall exclude residence property lines. Hickory Farms residents are responsible for trimming of their own property line that borders the commons area, which includes the residence's fences, gates, trees, plants, hardscapes and built structures.
Additional Services - Invasive Weed and Bamboo Management
Four times during the growing season, CLS will be hand target spraying the new bamboo sprouts that reach 4 ft. tall, as well as, several tree groves that have invasive weeds growing in the Upper and Lower Commons. The bamboo and invasive tree groves will be hand target sprayed with glyphosate and a color marker additive. The color marker additive is to show which plants have been sprayed. Communication will go out to the community via listserv, as well as, signs will be posted in the commons areas when spraying will occur.
The Birds of Hickory Farms
-Bob Cosgriff, Cotton Farm Road
Despite periods of extended very cold weather from December, 2017 onward, and the series of nor'easters in February and March 2018, birds were very much present in our neighborhood all winter. This is because Hickory Farms offers what all birds need, regardless of the season: food, water, and cover. Much of this is natural: the fields and tree "islands" in the common grounds, the water in Rabbit Run, and wooded habitat along the creek.
These three elements can also be present in our own yards, if we give a little help to nature. Anyone can build good habitat in a small area like a backyard. Collectively, this would greatly increase the attraction of Hickory Farms as a way-station in migration, or a permanent year-round home for many species of birds. Please see the companion article for details on how to go about making your yard more 'nature-friendly.'
But how do we know that improving habitat brings in the birds? Each year since 2013, starting 1 January and ending 31 May, we have kept a daily record of all species observed in our own backyard, a certified wildlife habitat. (After 31 May, we note only any new species seen for the remainder of the year.) In 2017, we had an average daily count of 16 different species, with a total of 52 different species observed, all within the initial count period.
So far in 2018, we have seen a jump, with a daily average of 22 species, with a high day of 28 species, and a total of 45 different species in just over three-and-a-half months! We are not sure how to account for this increase in average daily counts, but it is probable that the severe weather in January and March and colder-than-normal temperatures in April made it harder for many birds to find enough natural food, so they gravitated towards our feeders and our heated bird bath. A few highlights for 2018 include Hermit Thrush (here nearly every day since 1 January), Fox Sparrow (which stayed for over a month from mid-February until the end of March), Cedar Waxwing, Cooper's and Red-shouldered Hawks, Eastern Towhee, Eastern Bluebird, Winter Wren, Pileated Woodpecker, Yellow-rumped Warbler, Red-winged Blackbird, Ruby-crowned Kinglet, and Chipping Sparrow By mid-April, we had seen a House Wren and Blue-gray Gnatcatcher, two definite harbingers of spring, and a Brown Thrasher. One real surprise was a Mallard Duck that flew up from the creek to waddle through our yard in March to check out the seed on the ground below our feeders! We also witnessed a Cooper's Hawk kill and eat a Northern Flicker. There is always something to see in a naturalized backyard!
As for the bluebird trail status: in the lower common grounds, we currently have one nest with five hatchlings, another with three eggs, due to hatch around 8 May, and a third box with a completed nest but no eggs as of 4/21/18. This year, the first egg was laid on 1 April.
This compares with the following dates for the last four years of official trail:
2014: Between April 20 – 24
2015: April 5
2016: April 16
2017: March 27
An early start suggests that we may possibly see two or possibly three broods in succession this year in the first box to have eggs. Perhaps we will also see Tree Swallows return after a two-year absence. While the bluebirds are a sure sign of spring, late April and May are the high points of the spring migration, with many beautiful neo-tropical birds, such as warblers, orioles, tanagers, and vireos passing through Hickory Farms as you read this newsletter. In fact, I have already added two migratory birds to the Hickory Farms neighborhood list: Palm Warbler (a single bird in the upper common grounds on 10 April and two birds in the lower common grounds on 21 April) and Broad-winged Hawk (also on 21 April). In fact, there were eight of these hawks (which winter in South America) circling in their characteristic "kettle" on a thermal before stringing out and gliding off to the north. Earlier that same day, I saw an Osprey flying over the neighborhood near the corner of Cotton Farm Road and Country Squire Lane. This is only the second record for Osprey here. With the Broad-winged Hawks, the HFCA list stands at 120!
In closing, if you would like to talk about creating habitat in your yard as discussed in the companion article, or if you have an interesting sighting, please contact me, and I'd be glad to discuss it further with you. In the meantime, I encourage you to get out and about in our common grounds and enjoy the birds of Hickory Farms.
Until next time,
Bob Cosgriff
Should You Power Wash Your Sidewalk, Patio, or Driveway?
Only if you are very, very careful. Power washers – especially gas powered ones - deliver enormous water pressure to the concrete, powerful enough to actually dig out the rock aggregate which is part of the concrete mix. Once that begins, the concrete will begin to crumble, a process called spalling. However, if you really want to clean your concrete using a power washer, use it at the lowest power setting and keep the wand at least 1½ feet from the concrete. An alternative is to use a concrete cleaning product available from a home center or hardware store such as Ace Hardware on Main Street.
A Great Looking Neighborhood – Needs Your Help!
In Hickory Farms, we are serviced by two trash removal companies. They have multiple trash, recycle and yard waste pick up days between Monday and Friday, resulting in the appearance of containers being at the curb practically all week. Since pick-up schedules starts at 6 am, it makes sense to place containers at the curb the night before pick-up so you don't miss the pick-up. Two situations have begun to develop:
Residents are leaving their trash and recycle containers at the curb all week!
Residents are leaving their trash and recycle containers in the front portion of their property all week!
(Example: in front of garage doors at the top of their driveways)
In order to maintain the most attractive neighborhood for all of us who live here as well as showcase our neighborhood for potential buyers, please consider the following when it comes to your trash and recycle con-tainers:
Only place containers at the curb at dusk or later the night before pick-up and remove from the curb on the day of pick up. Avoid containers at the curb in front of your home on non-pick up days
Store containers on the side of your property or behind property fences so that they are not visible from the front of the property. Try to avoid having containers sitting in front of your garage doors all week.
Avoid containers on the street from Friday evening through Sunday afternoon so that we can maximize the attractiveness of our community! With Monday morning pick-ups, Sunday dusk or evening curb placement works!
What makes Hickory Farms such a great place to live is the tremendous cooperation and volunteer support of all our homeowners. Please make the extra effort to avoid having unsightly containers in front of your property as much as possible.
Thanks!
Bruce Bernhardt
neighbor and Board Member
Hickory Farms is Bringing its By-Laws Up-to-Date
There are four documents that regulate how the Hickory Farms Community Association works: 1) Articles of Incorporation, 2) Declaration (our "constitution"), 3) Rules and Regulations, and 4) By-Laws. The By-Laws haven't been substantially reviewed since they were written in 1983. The Board of Directors has asked board member Kirk Randall (Country Squire) to form a team to review them and submit proposed changes to the homeowners at the October 11 Annual Meeting (mark your calendars!). The By-Laws may be amended by a majority vote of a quorum of members present in person or by proxy at a regular or special meeting of the membership. You can view the By-Laws at https://hickoryfarms.org/archive/By-Laws.htm If you would like to help out, please email Kirk at Kirk_Randall@Hotmail.com