October 2022 Hickory Farms Newsletter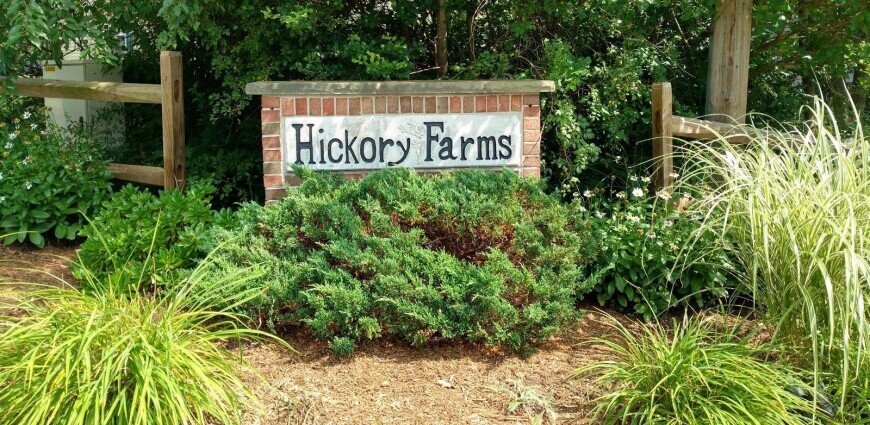 - Editor, Jennifer Maloney (Farm House Ln)
President's Column
By Jim Bever
SAVE THE DATE! OCTOBER 18th, 7-8:30pm. Your ANNUAL HOMEOWNERS' MEETING!—via ZOOM again. Details for how you can join are provided to you in this Newsletter and have also been mailed to every home, along with the proxy ballot for your convenience to be received electronically or by U.S. mail to HFCA's Post Office Box by October 16th.
Candidates as of this Newsletter printing for election to the Board as Members to have voting authority are:
Pam Barrett
Telah Jackson
Ben Noviello
Ken Sorg
Melissa Stark
Tad Weed
Once elected, the winning Board will then choose its Officers of the Board as President, Vice-President, and others deemed by the Board to be critically important, such as Treasurer, Secretary, Member At Large, and Assistant Treasurer. (To be a Board Member with voting authority, the Member may not miss three consecutive Board Meetings.)
Note: Self-nomination for Board election may also be received during the Meeting; nomination by a homeowner of another homeowner during the Meeting must present evidence of the latter's consent for such.
AGENDA for the October 18th Annual Meeting
Elect our new Board for 2023
Vote on affirming our Board-approved 2023 Budget (repeated in this Newsletter)
Vote on affirming our Board-approved 2023 Annual Assessment (repeated in this Newsletter)
Review our finances for 2022 and progress on executing our Hickory Farms Strategic Plan
Share updates on 2022's actions, including Architectural Control Committee (ACC) & Social events
Present upcoming planned activities.
JOIN OUR SOCIAL COMMITTEE & BLOCK REPS!
Please contact us at social@hickoryfarms.org!
SUCCESSFUL "Weeding Social Event" & Bird Watching Tour in September—see photos inside!
Thank you and see you "virtually" at 7pm on October 18th!
Jim (571 405-0708 mobile or president@hickoryfarms.org)
HFCA Board Meeting Notice
HFCA Board Meetings continue to be held via Zoom. Unless otherwise notified or due to an unforeseen change, HFCA Board Meetings will be held the 2nd Tuesday of the month at 7 pm. Note: the November meeting will be held Wednesday, November 9. To join a Board meeting, contact any HFCA Board Member or send a request to join to hfca@hickoryfarms.org. You will be provided with the Zoom meeting URL, meeting number and passcode.
2022 Hickory Farms Community Association Annual Meeting
For the Annual Meeting to be held October 18th at 7 PM via Zoom, under the provisions of the Hickory Farms By-Laws, we need you in person (via Zoom) at the Annual Meeting or your proxy in order to have a quorum at the Annual Meeting. If you are unable to attend the meeting, you are now able to submit your proxy electronically here: https://www.surveymonkey.com/r/QDQRNBN
Your unique survey ID for your property address was mailed to your home late September and will be used to verify your property votes only once when filling in the digital proxy linked above. If you have trouble locating your unique ID please email secretary@hickoryfarms.org. Please note that only one homeowner may vote per home and only the secretary can submit more than 4 proxies. The mailing also includes a paper ballot if you are unable to submit online, but please note that online submission is preferred. Note: As a homeowner voting by proxy, we need to receive your proxy electronically or via U.S. mail by Sunday, October 16th to allow time for processing.
Zoom Information:
Join Online on October 18th at 7 PM with Zoom. Please email secretary@hickoryfarms.org for access information.
The following votes will be held at the meeting:
The Current Nominations for the Election of 2023 Board Members:
Pam Barrett
Telah Jackson
Ben Noviello
Ken Sorg
Melissa Stark
Tad Weed
Write-in Candidates
Budget Related Affirmations for 2023:
Affirmation of the 2023 Budget approved by the Board
Affirmation of the 2023 Annual Assessment approved by the Board
Note: During the October 18th Annual Meeting, a homeowner may self-nominate to be a candidate for election to serve on the Board and a homeowner may nominate another homeowner to serve on the Board, but must have evidence of the latter's consent for such.
2023 Budget and Annual Assessment Notice
By Ken Sorg
Under the Hickory Farms Bylaws and the Virginia Property Owners Association Act (VPOAA), the Board of Directors must approve a budget and set an annual assessment for the forthcoming year. The Hickory Farms Board of Directors reviewed the 2023 budget and concluded a $281 annual assessment was needed. This increase from $261 to $281 is needed to cover the rising costs of operations and contribute to the reserve fund (used for repairs and upgrades of HFCA assets).
The 2023 budget and the increase of the 2023 annual assessment to $281 were approved by the HFCA Board of Directors at the monthly meeting on August 9, 2022. Also approved was the 2023 budget.
For Homeowners, below is the Board–approved 2023 Budget. By September 18th, homeowners will be sent a proxy and invitation to attend the Annual Meeting via Zoom on October 18th at 7pm, and affirm the budget.
Income
Assesments
$55,638
Assessments - Late Fees
Interest
Advertising
$550
Legal Fees Recovered
VPOAA Disclosure Fees
$875
Total Income
$57,063
Expenses
Common Area Maintenance
$27,015
Common Area Improvement
$3,225
Common Area Remediation
$5,913
Insurance - Director's Liability & Surety
$2,795
Insurance - Commercial Crime Insurance
$894
Insurance - General Liability
$345
Legal Fees
$2,303
Postage
$269
Neighborhood Watch
$198
Printing
$1,677
Social Activities
$2,000
Tax Preperation
$374
Taxes & Government Charges/Fees
$276
Capital Reserve Deposits
$5,975
Administrative Fees
$1,750
Strategic Projects
$2,000
Bank Charges
$54
Total Expenses
$57,063
Income Less Expenses
$0
Notes:
1. Reserve fund $52,531 as of 07/31/2022 (Money Market Account).
Hickory Farms Halloween Spooktacular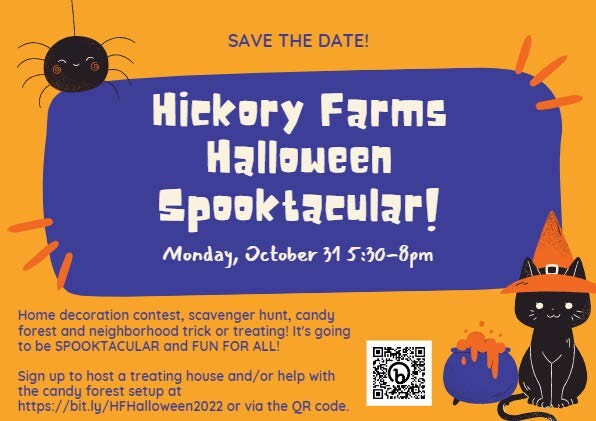 The Social Committee Needs YOU!
Attention Hickory Farms Residents! Do you like building community? Do you like parties and holiday-themed activities? Do you have around 1-3 hours a month to give? Then the Social Committee needs you!
After many years at the reigns, Meredith and Sarah are ready to pass the torch on to other neighbors who will bring fresh perspectives and ideas to our community!
This role requires a small amount of time per month and is all about fostering FUN in the community.
If you are interested, email Meredith and Sarah at social@hickoryfarms.org to learn more about the role you can play in all the Hickory Farms Fun in 2023!
A Volunteer-Run Board for Almost 50 Years!
By Carlie Mensen
Hickory Farms Community Association has been a volunteer-run community association since our homes were first built in 1975. Many homeowners have served on the board throughout the years and each volunteer is part of what keeps our cost down and ensures that the homeowners are the #1 priority. Over the last 5 years we have had only 25 of 198 homeowners serve on the board, in addition to numerous volunteers supporting the Architectural Control Committee, Common Area Committee, Newsletter Editing and Distribution, Listserv Maintenance, Neighborhood Watch Coordination, and may other tasks that are required to keep our community running and our common areas beautiful.
As the 2022 board wraps up their year of service, we call for others to join us in service. If each home volunteers for 1 year with a board of 8-12 members, we can sustain for almost 25 years. In addition to supporting your community you will also learn more about how your yearly dues are allocated and an appreciation for the effort to keep our community running smoothly.
If you are interested in joining or volunteering in any capacity, please contact the nominating committee at nc@hickoryfarms.org.
A special thank you to our current homeowners who have served on the board over the last 5 years:
Angela Turner
Kathie Schmidt
Bill Berg
Ken Sorg
Brenda Denny
Kirk Randall
Brian Roethlisberger
Krissy Lunsford
Bryan Crabtree
Lauren Crabtree
Carlie Mensen
Melissa Stark
Chuck Stewart
Meredith Perkins
Dante Gilmer
Pam Barrett
Don Lobeda
Pete Scala
Jim Bever
Sarah Tropiano
John Kitzmiller
Telah Jackson
2022 ACC Property Actions
Applications
Solar panel -4316 Still Meadow Road
New roof -4377 Farm House Lane
New roof -4331 Still Meadow Road
New roof -4371 Harvester Farm Lane
New fence-4331 Still Meadow Road
Deck extension -4285 Country Squire Lane
New fence -4377 Farm House Lane
New Roof -10002 Tumbleweed Court
New fence -10007 Cotton Farm Road
New siding and bay window -4306 Burke Station Road
Shutters –new color -10007 Cotton Farm Road
New fence – 4342 Farm House Lane
Front entry door replacement-4345 Farm House Lane
Garden arbor replacement – 10111 Spinning Wheel Court
New roof -4369 Farm House Lane
New fence-4325 Still Meadow Road
New fence -4379 Farm House Lane
New Roof- 4347 Farm House Lane
New exterior colors -10000 Cotton Farm Road
New front entry door/storm door - 4306 Still Meadow Road
New mailbox – 4372 Harvester Farm Lane
New shed -10113 Spinning Wheel Court
New paint colors on shed -10012 Cotton Farm Road
New deck, screen porch, walkway -4357 Farm House Lane
New roof, gutters, shutter color, carport interior -4315 Still Meadow Road
New shed- 10007 Tumbleweed court
Virginia Property Owner Association Packages
4285 Country Squire Lane – serious violations corrected. Required 28 emails , 3 inspections and 4 weeks to close
10007 Cotton Farm Road – violation negotiated with buyer
10000 Cotton Farm Road -no violations
4295 Country Squire Lane- two violations being corrected
10118 Round Top Court -no violations
10110 Round Top Court –no violations
4361 Harvester Farm Lane –no violations
10012 Cotton Farm Road -violations to be corrected
Through September 26, 2022, our Architectural Control Committee has processed 34 applications and real estate inspections.
To learn more about the ACC, contact Pam Barrett, ACC Chair, at acc@hickoryfarms.org.
ACC - Readers' Requests Answered
By Pam Barrett
During the last month, I have received requests regarding information we published in the May Newsletter on cleaning products and methods for removing mold and mildew on siding, roofs and decks.
My personal experience has been that contractors sometimes do more harm than good to my siding and deck. A deck and siding cleaning contractor damaged my neighbor's aluminum siding and then splintered my deck's surface so that it required sanding before we could walk comfortably on it. Below are some tips about easily cleaning siding and decks yourself that I have shared in our May newsletters for the last few years. It has been updated with some new information.
I have a north facing wall that eventually turns green every few years and I spray it with an environmentally safe, non-toxic product called Mold Armor E-Z House Wash. You connect this product to a regular garden water hose and follow the directions. It will get rid of mold and algae, etc., on siding and concrete.
I also use another product called Spray and Forget for wood decks, fences, and roofs. Mix this one according to directions in a home garden sprayer – one with a good reach. It is completely non-toxic and will not harm plants, pets or even your bare skin - although the directions do recommend that you use gloves. I have done it in sandals several times and just rinsed well with water after finishing the work. You will not see instant results, but over time the moss and mildew does dissolve and stays away for a few years. I have had great success with it. I attached the links for these products below.
There is a product that was available before the Pandemic at Costco, called Wet and Forget. It came out after Spray and Forget. I believe it is not the exactly the same formula, but is a 'marketing knock-off'. Although it is not quite as well reviewed, I have talked to homeowners who are happy with the results.
Wet & Forget Moss, Mold, Mildew & Algae Stain Remover 0.75-gallon, 2-pack at Costco.
Thank you to Those Who Volunteered Thier Service Saturday!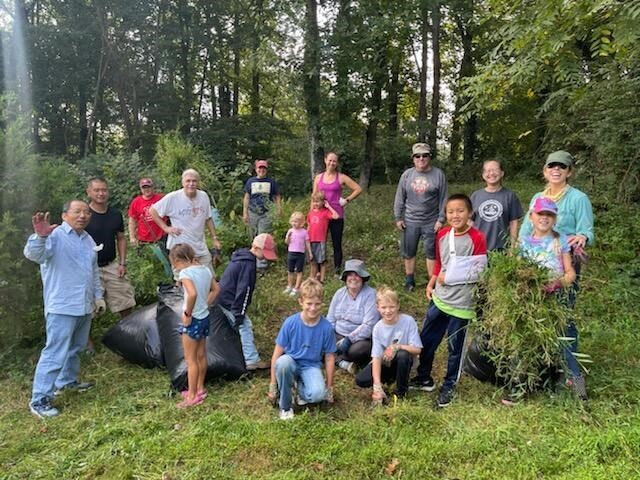 Student Yellow Pages
If you offer services such as raking leaves, lawn mowing, babysitting, pet sitting, dog walking, tutoring, etc., and wish to be included in future listings, please email the Newsletter Editor at newsletter@hickoryfarms.org.
The Birds of Hickory Farms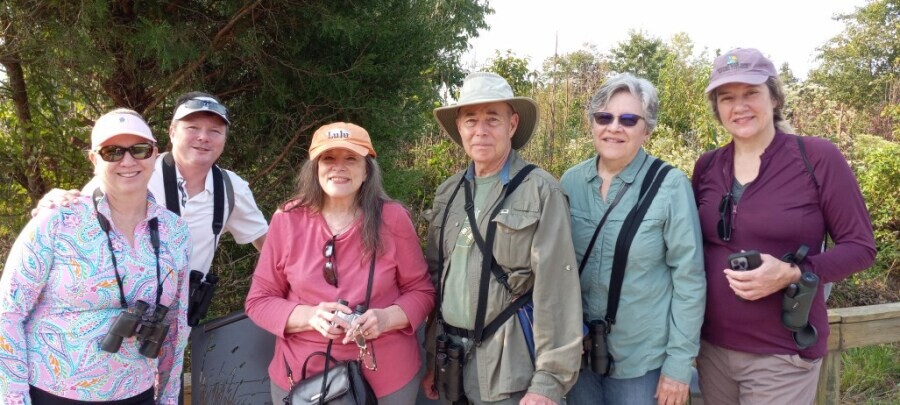 By Bob Cosgriff
September marks the beginning of the fall migration, although in reality many birds start heading south in August. To mark this event, the annual Hickory Farms Fall Bird Walk went off-site this year. On Saturday, 17 September, a small but enthusiastic group of neighbors joined Judy and me to explore nearby Occoquan NWR in Woodbridge. In addition to learning bird identification tips, everyone got to enjoy a picture-perfect fall day out in nature. The refuge, which is productive in any season, did not disappoint. We tallied 26 species representing 11 (of 21 possible) orders of North American birds. Highlights were Yellow-billed Cuckoo, Palm Warbler, Common Yellow-throat (a warbler), Great Blue Heron, Great-crested Flycatcher, and Pileated Woodpecker. We did not see any Bald Eagles, which is unusual for the refuge, but we did see a most impressive eagle nest in a large tree.
Closer to home, by the time this article reaches you, hummingbirds will have departed Hickory Farms. Canada Geese migrating from up north may be passing overhead. Warblers and other song birds are gone, or soon will be. By November, juncos and White-throated Sparrows should be arriving. November is a good time to fill your feeders. Do not buy bags of seed mixes—they are often filled with filler seeds like red millet, corn chips, etc. and generally are a waste of money as the birds will ignore anything that is not part of their normal diet. The best all-around offering is black-oil sunflower seeds. Safflower seeds also attract a wide variety of birds. White millet is great for sparrows and juncos, I cast it on the ground, which is where these birds prefer to eat by scratching in the leaf litter or mulch. If you want to attract goldfinches, use nyjer seed in "upside-down" feeders designed for goldfinches. Don't forget suet, but be sure it is presented in such a way that squirrels cannot get to it. If this is not possible, use suet that has been mixed with red pepper. Squirrels will not eat this product. Speaking of natural food, our wildflower gardens in the common areas are bursting with seeds. This bounty will help our over-wintering birds. Feeders basically serve as a supplementary source of nourishment.
The Hickory Farms bluebird boxes have been cleaned and made ready for winter. They provide shelter in cold weather for bluebirds and other small birds. As mentioned last month, we had a slightly less-than-average year for bluebirds in 2022. It will be interesting to get the Fairfax County and state-wide totals to see if other areas observed the same drop-off in numbers. Next year, we will be installing a few boxes designed to deter nesting by House Sparrows. It will be an interesting experiment to see whether they work as advertised.
Until next time, enjoy the cooler weather by getting out in the neighborhood or a nearby park to spend some quality time in nature. There is always something worth seeing at places like the Occoquan NWR, nearby state parks like Leesylvania and Mason Neck, and our outstanding Fairfax County and Northern Virginia Regional Parks locations.
Fairfax County Voting Information
Vote in person:
Vote by mail:
Join the Listserv to Access Newsletters, Notices About Events, and More!
All are encouraged to connect with Hickory Farms by joining the Hickory Farms Listserv! Hickory Farms utilizes Google Groups to manager our listserv. We chose this platform because it's simple, easy to use and free.
While any email address works with Google Groups, we highly recommend having a Gmail account because it is most neatly integrated with Google. If you don't have a Gmail account, you can sign up for one at http://www.gmail.com.
Once you have an account, visit https://groups.google.com/my-groups to sign into Google Groups. From there, you can go straight to http://groups.google.com/g/hickory-farms-hoa/ and click the "Ask to Join." In the Reason for Joining, please include your address, phone number, and own/rent status to include in the neighborhood directory.
Once your membership is approved, you'll receive emails when they are sent to the listserv. You can adjust your membership settings - like changing single emails to a weekly digest - in your Google Groups Settings.
Please don't forget to review the guidelines on the Hickory Farms website here: https://hickoryfarms.org/hickory-farms-listserv. There's also information on how to post to the listserv, manage your account and more.
Finally, if you need basic Google Groups help, visit: https://support.google.com/groups/answer/1067205?hl=en. You can always contact the admins of the listserv for help or questions by emailing hickory-farms-hoa+managers@googlegroups.com.
Newsletter Item Deadline and Distribution Notice
Newsletter items are due the 25th of the month, for the next month's issue. Please send submissions to newsletter@hickoryfarms.org.
Newsletters are distributed via the HFCA listserv and posted on the HFCA website. Unless as required by bylaws, paper versions of the newsletters are no longer delivered to households. All are encouraged to access the digital newsletter via the listserv or the HFCA website. See below for information on how to join the listserv. A limited number of hard copy newsletters will be available each month in the Little Free Libraries.